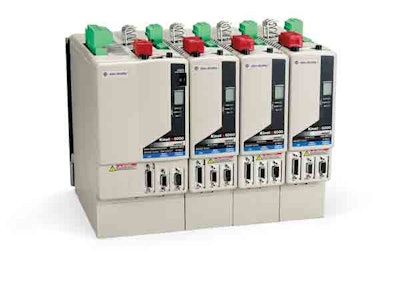 The Model LJ-SRT dual-infeed robotic top-loading cartoner from Bradman Lake (www.bradmanlake.com) was designed with customer solutions in mind, solutions that reduce total cost of ownership (TCO). So rather than sourcing its operator interface, servo drive, and motion control technologies from a variety of vendors each offering its own configuration tools, software, and support, Bradman Lake sought a single-source technology provider capable of supplying a fully integrated controls package. The result is that rather than spending time deciphering a variety of programming languages and software packages, Bradman Lake can focus on building the most functional cartoner its engineers can envision.
At the center of the controls package is the Allen-Bradley ControlLogix® L63 programmable automation controller from Rockwell Automation (www.rockwell.com).
"This processor allows customers to access information about everything happening on the machine, including in-depth productivity information," says a Bradman Lake engineer. "Because of its flexibility, we were able to integrate a multitude of communication I/O cards, enabling the machine to communicate with legacy PLCs and bridge information across an Ethernet network."
Also specified were Allen-Bradley Kinetix® 6000 servo drives to provide the machine with a common platform for high-speed coordinated motion control with remote access. With Kinetix Integrated Motion, the ControlLogix controller consolidates sequential and motion control into a single platform, eliminating the need for a separate motion controller. In addition to improving overall system synchronization, this brings a considerable reduction in the time required for engineering and installation.
Servo motors chosen for the LJ-SRT cartoner are Allen-Bradley MP-Series™ low-inertia servo motors. They utilize Smart Motor Technology, which provides automatic identification of correct motor-to-drive connectivity and further reduces machine commissioning time.
On the HMI side, Bradman Lake selected the Allen-Bradley PanelView™ Plus 1250 operator interface. It lets maintenance people easily identify and diagnose problems and makes it possible to monitor each individual servo axis in real time.
By relying on a single platform for sequential and motion control and implementing an integrated Rockwell Automation solution, Bradman Lake claims it has reduced design time of the LJ-SRT by at least 66 percent. The standardized equipment makes installation time about 50 percent faster thanks in part to an 80 percent reduction in wiring time.
"Rockwell provided us with a solution that enables us to reduce build times for our machines," says the Bradman Lake engineer. "Not only were we able to reduce our overall costs, we also were able to offer our customers a better machine with significant cost savings."
Companies in this article