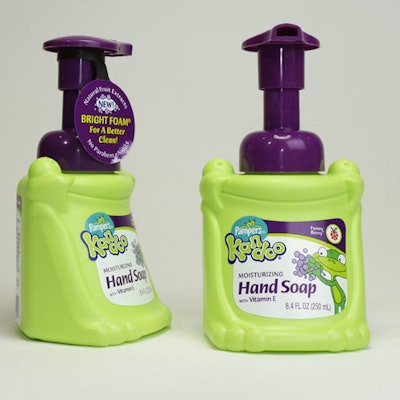 The National Association of Container Distributors announced today that this year's top honor, the Bernard M. Seid Best of Show award, has gone to the Kandoo Corner Buddy personal care packages for kids, developed by Berlin Packaging for the Nehemiah Manufacturing Co., Cincinnati, OH.
Nehemiah recently took over the Pampers Kandoo brand from Procter & Gamble Co. and wanted to relaunch it with a range of body wash, shampoo, hand soap, and hand sanitizer packages that support the brand attributes signified by the idea of "enabling play." That tagline is central for the brand's target audience—young children who are learning to enjoy independence.
Nehemiah, in working with Berlin, determined there was an unmet need for a kids' hand sanitizer package to travel in vehicles. They also discovered a need for kids' hand soap and other bath products to be stored more accessibly in bathrooms, where personal-care packages often are placed in unreachable and unstable locations on the sink and bathtub ledges.
The Corner Buddy package meets each of these needs by fitting snuggly in corners in vehicles or on sinks and tubs. The development process included hand and CAD sculpting for the lifelike Kandoo frog character features. The NACD judges say the result is a distinctive package that makes staying clean fun and safe for young kids.
The NACD awards recognizes the most innovative packages released during the previous year. The awards are presented to package distributors that developed the packages for their clients.
NACD will present the rest of its 2011 Packages of the Year awards at its annual convention in April in Palm Springs, CA, and post the winners on its Web site.
Companies in this article