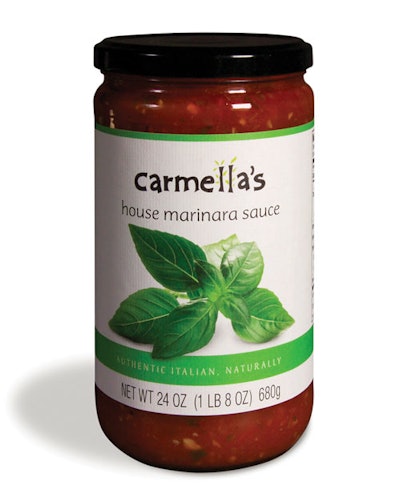 Carmella's turned to Directions Inc. to design the label. The agency was tasked with leveraging the package to establish Carmella's as a mid-to-premium brand, and began its work by conducting a category audit of higher-end sauces, ranging from $6 to $10 per bottle. In addition, the design team met with the bistro owners and dined at the restaurant to get a greater sense of where Carmella's wanted its brand to be.
The team settled on a clear glass jar with a black lid, and a primary label featuring a single sprig of fresh basil leaves—large and lively—to communicate the fresh, all-natural ingredients inside the jar.
The label design also features two bright green stripes that match the color of the basil. One strip flows across the top of the label, and the other goes across the bottom, displaying the brand's positioning statement, "Authentic Italian, Naturally." The stripes are used as a color-coding system to help identify sauce flavors.
The secondary label subtly features the Carmella's logo: The two Ls from the Carmella's name, with tiny green, thyme-like leaves springing out from each side.
The jar's pressure-sensitive labels, from WS Packaging Group, are digitally printed. They feature a facestock typically used for wine labels and feature a ribbed texture to provide a tactile feel in the hand, enhancing perceptions of product quality.
The Carmella's labels are printed in four-color process. A matte UV varnish protects the label from moisture and abrasion.
"With many years of practice and perfecting the Carmella's House Marinara Sauce, among the other sauces, it feels great to know that our product is branching outside of the bistro and generating brand recognition," says Nicole DeFranza, who with her sister, Kristen Sickler, operates Carmella's Italian Bistro.
Companies in this article