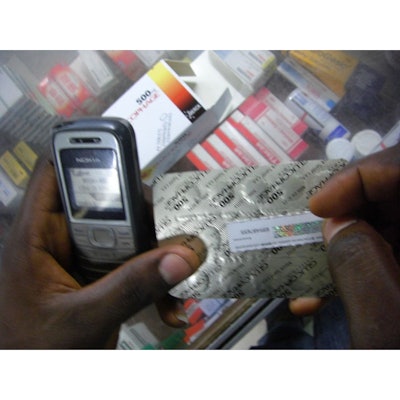 The World Health Organization estimated that 50% of medicines could be counterfeits in Africa and Asia. In an effort to counter potential counterfeit medicines, Biofem Pharmaceuticals recently began a trial in Nigeria that employs Sproxil's Mobile Authentication ServiceTM for authentication of packs of Merck's Glucophage diabetes drug. Sproxil also supplied the photo shown here.
In this article, the Kenya News Agency reports on how the African country is launching a mobile phone application to fight counterfeit medicines.
Edited by Jim Butschli, Editor, Healthcare Packaging
Kenya has begun piloting a system that will make it possible for consumers to use text messages to find out if a particular medicine is legitimate or counterfeit, said Kenyan minister for Medical Services, Professor Anyang Nyong. The system is designed to prevent Kenyans from falling prey to fake medicines, which have begun flooding markets in East Africa.
Even though similar systems have been tried in Ghana and more recently in Nigeria, this is believed to be the first time the use of such an approach, known as the mPedigree platform, has been endorsed at cabinet level in any country in the world.
Speaking at the ongoing mHealth Africa 2010 conference in Accra, Ghana, Dec. 2-3, one of the promoters of the platform, Franklin Cudjoe, of the World Economic Forum, said that the platform has been embraced by major pharmaceutical brands and will therefore be replicated across Africa.
The Ghanaian Minister of Communications, Haruna Iddrisu, said at the same conference that the growing availability of telecom bandwidth could account for the growing potential of mobile health platforms for use in remote data collection, diagnosis, and health communications, such as sending dosage reminders to patients.
Dr. Lloyd Matowe of the Global Fund described a new initiative to ensure affordable access to quality antimalarials as a "$250 million pilot," justifying the need for new technologies to monitor effective and equitable distribution on the large quantities of funds going into new programs in health in Africa.
He said it is important for medicines that are being subsidized in the nine-country pilot to reach the poor and needy, and technologies such as mobile phone applications can help prevent abuse of such facilities.
Dr. Emanuel Obi of the Malaria Control Program in Nigeria said mobile phones are being used to track millions of bed nets distributed under the program in Nigeria and that more than 60,000 text messages have been sent by recipients, mostly through the MTN network.
Dr. Esther Ogara, Manager of Kenya's e-Health policy, said that the adoption of the mPedigree platform in Kenya would help nip the growing prevalence of counterfeit medicines. She said pharmaceutical companies have been brought on board to support the initiative. She emphasized that such e-Health initiatives can only be supported based on the evidence of their impact and not on the innovation alone.
Dr. Abdullahi of the Nigerian Primary Health Development Agency described another system, which he said had been implemented on a thousand phones in Nigeria to improve on the capacity of health professionals. He said that his agency was less enthusiastic of desktop-based systems because hand-held devices were more efficient, since they can work in the absence of electricity and do not require much maintenance.
Another system that was promoted at the conference was "ChildCount+" that has been developed by the Earth Institute at Columbia University. It empowers communities to improve child survival and maternal health.
Many speakers alluded to mHealth's cost-saving, efficiency, and ubiquitous properties but lamented the many pilots that cannot scale because of fragmentation, lack of capital, and conservative attitudes of some policy makers and health professionals.
Dr. Egbe Osifo-Dawodu, founding partner of Anadach Group, said the conference would show the world that Africa is at the cutting edge of mobile health initiatives.