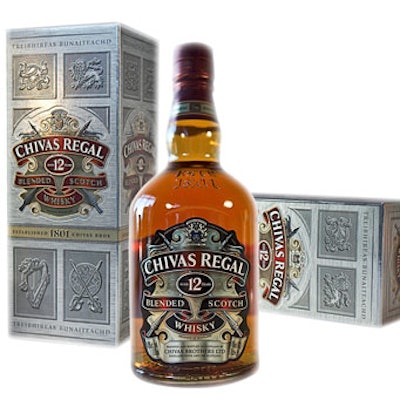 The luxury premium blended scotch whisky sells more than 30 million bottles a year; that's a lot of handling by both the supply chain and consumers, and it created a packaging challenge for Chivas Brothers.
The company previously packed the distinctively shaped bottles in gift cartons produced on 425 gsm Korsnäs Carry cartonboard. However, Chivas Brothers was looking to further enhance the brand's shelf presence and improve consumer "grip stiffness." Gift cartons get handled a great deal in retail stores, and the strength of the cartonboard has to endure the level of interest generated daily by the brand. Chivas Brothers, as a result, identified the need for an even heavier, sturdier carton material.
"The cooperation between Chivas Brothers, the carton converter, Chesapeake Branded Packaging, the foil laminator, API Laminates, and Korsnäs goes back many years," explains Devlin Osborn, sales manager at Korsnäs. "Chesapeake considers Korsnäs to be a reliable business partner with a proven supply chain and a product they can trust, and so they asked if we could work together to develop a stronger, heavier version of Korsnäs Carry to offer to Chivas Brothers.
"The joint project resulted in 480 gsm Korsnäs Carry. By the end of 2008, Chesapeake was running the first trials and concluded that the new weight of the board compared favorably with other higher grammage boards that were considered, tested, and available at the time."
To which Graeme Bridgeford, Chivas Brothers package development manager, adds, "We use this board material only for our Chivas Regal 12 Year Old Premium Blended Scotch Whisky. The whisky is sold worldwide and enjoys strong consumer and brand loyalty. Growth in recent years has come where there is a continued appreciation of quality and of premium brands.
"We revisit our package design every few years to ensure we keep consumers engaged with the brand and that the packaging is appropriate," Bridgeford continues. "A common trend in recent years has been to increase 'premiumization.' Overall, strengthening of the gift carton was deemed to play a key role in this strategy going forward. By moving to 480 gsm Korsnäs Carry, we achieved a more rigid feel while still being able to maintain our production-line efficiencies. We introduced the new board fully at the same time as the latest brand graphics restage, during the summer of 2009."
One of the gains for each stakeholder was the light weight of the new cartons. The 480 gsm Korsnäs Carry board is stronger than the heavier-grammage options because of its tough Nordic virgin fiber and four-layer board structure.
The board is first foil-laminated in a reel-to-reel process at API Laminates. Because foil can highlight any fault in the board, it is essential to use a board with consistent technical quality and excellent fiber formation.
At Chesapeake Branded Packaging, the board then runs through a flexographic printing press, where it is printed on both sides, varnished, embossed, cut, and creased in a single in-line process, and then glued at a high speed. At Chivas Brothers, the carton blanks are then fed into one of the most demanding bottle-packing operations in the world. The material has to be up to the task: What's ultimately at stake is not only the Chivas Regal brand image but also product protection.
Companies in this article