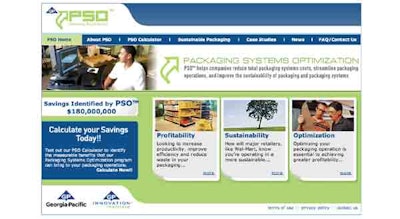 A new microsite from Georgia-Pacific (www.gp.com) is designed to highlight the ways in which the company can help its customers reduce total packaging costs while also attaining greater sustainability with short lead time. The site, which can be accessed by visiting www.gppso.com, is equipped with a PSO Calculator that estimates potential savings in terms of raw material cost, energy consumption, and greenhouse gas emissions.
The PSO program involves a five-step process in which a team of packaging experts and engineers analyze a company's entire packaging supply chain from package design and shelf impact to line productivity, material handling, and distribution. The team then offers a detailed report outlining areas where improved cost-savings, profitability, and sustainability can be achieved.
"Since we began using PSO in 2002, we have identified annual savings of more than $180 million for our customers. We've found that our process works across all industries—the solutions are different, but the path to get there is the same," says Brian Reilly, senior director, Georgia-Pacific Innovation Institute®.
An example of the plan in action involves water heater manufacturer A.O. Smith Corp. Georgia-Pacific's engineering experts assessed the company's supply chain and developed a comprehensive plan to reduce fiber content, energy use, and transportation costs, while increasing productivity.
For more information on this program, visit the new microsite at www.gppso.com.