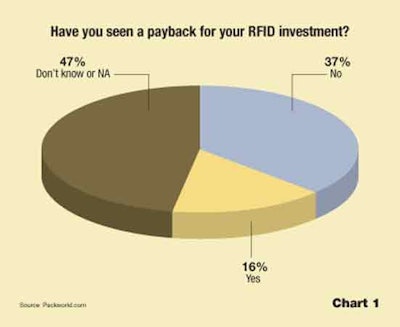 It wasn't long ago that the RFID world hailed the long-awaited and much anticipated lower cost of tags and readers (see Higher frequency of RFID ahead, www.packworld.com/view-20168, published Dec. 2005). Expectations about the spread of the technology rose. You might say the excitement surrounding RFID had reached a higher frequency.
A new reality check of RFID for packaging indicates that fundamental questions remain about the technology's cost and its value. This view comes from an exclusive Packaging World survey supplemented with observations by end users and consultants. Their mindset seems more along the lines of "show me the value," which may be a stumbling block to wider application of RFID.
First of all, let's consider some key findings from the online survey conducted in September and October, 2006 that attracted nearly 350 participants (see sidebar p. 42):
• 75% of respondents' companies do not use RFID.
• 69% of those companies that use RFID do so primarily because of a mandate
• 63% purchase tags at a cost of 20 cents or less each. (see chart 4).
• 16% have experienced payback for their RFID investment.
• 8% use RFID primarily for internal purposes.
For the 70 respondents whose companies have implemented RFID, about 40% named cost as its single biggest challenge, while more than 20% identified complexities as the biggest challenge.
[Ed Note: The accompanying charts are for those who said they used RFID]. For those whose companies didn't use RFID, the most popular response (39%) was "we are not under a mandate." Individual responses varied all over the board from "No demand at this time" to "It is rather expensive" to "Waiting for better performance and standardization." Several indicated they were testing the technology or implementing in early 2007.
Cost concerns
Why do you use RFID? The most popular response to that question was because of a mandate, whether that be for Wal-Mart or the Department of Defense. That's the course taken by hundreds of packagers including ConAgra, where Phillip Hubbell was brought in specifically to lead the company's RFID mandate process. Hubbell was one of those who checked off "cost" as the single biggest challenge to RFID.
"Mainly we saw RFID as a cost, and we still see it as a cost," says Hubbell. "We're so diverse and so large that, in order for us to tag 100 percent of any one product, we would have to take RFID right down to the production floor and track it from there to multiple distribution centers around the country. We would have to keep track of what was tagged and what was not tagged. So, there are a lot of logistics involved if you're only doing part of your products."
ConAgra gains no internal value from using RFID technology nor sees any ahead, according to Hubbell.
It's not that ConAgra doesn't grasp how to use the data, "but that we're just not using it," Hubbell says. One of those reasons, he explains, is that they would have to tag a much larger percentage of their cases to provide meaningful data across its diverse product lines. And that means more costs.
Although a relatively small percentage of its production output is RFID-enabled, the number of tagged cases by number is considerable. ConAgra went from tagging an occasional box to the point that now it has tagged 750,000 cases, Hubbell estimates. It depalletizes product destined for the RFID-enabled DCs, tags them, and repalletizes them for shipment. Its RFID installation was the focus of a feature in PW's October issue (see ConAgra tackles the challenge of Wal-Mart's RFID mandate, www.packworld.com/go/view-22111).
"We have had a very aggressive schedule to keep this going," says Hubbell of the ramping up of its RFID output.
Costs also relate to volumes, as consultant Tim Kueppers of Sense ID points out. "Although the industry is closing in on the long sought five-cent tag, volumes understandably play a big role," he says. "To come close to such a price, a company would need to buy quantities approaching seven figures, especially for converted tags (RFID labels). This reality is perhaps the biggest driver for all the research being done in the area of tags being part of the package itself."
Hubbell discovered that buying in volume didn't pay off, citing storage problems where tags apparently lose their effectiveness over time.
"We found that it worked better having a steady supply of RFID tags from the manufacturer," he says.
Packaging consultant Brian Wagner of PTIS challenges, "although most of those surveyed do not see a positive return on their investment, over 15 percent suggest they do. If I made the investment in RFID, I'd be trying to understand what those companies are doing, and implementing best practices in my company. In fact, I'm not convinced there's been enough attention focused on the potential benefits of RFID, relative to the cost. How might RFID become an enabler of value? At what price will there be a positive return?"
For Hubbell, the bottom line is that for RFID costs to be reasonable, tags would cost just 2 cents each, "or five cents apiece if I could ever get three cents of value from it."
Value lessons
The survey seems to show that most companies such as ConAgra see RFID solely as an added cost. However, Tom Casas of produce packer Tanimura & Antle felt there was value in early implementation of the technology before it was required. The privately-held produce packer volunteered to meet the Wal-Mart mandate in 2005.
"We jumped in because we felt there was value, and we still believe there's value to participating at the mid-size company level," he says "It's real simple: If you are a supplier to Wal-Mart, you need to participate. And I don't believe Wal-Mart is going to back off, and it is pulling other retailers along, too.
"From a produce perspective, with all the recent recalls, the supply-chain visibility or potential supply-chain visibility that RFID could enable is very valuable. I just don't see how you could sit back. You don't necessarily have to be the early adopter, but there's value in being a close second. From our perspective, the payback may come two or three years down the road. But if you don't jump in, the game is going to continue and you're going to be on the outside looking in."
T&A started out small, shipping one item to one distribution center in Texas. "We've probably shipped more than 300,000 tagged boxes of lettuce or cauliflower to that one DC," reports Casas.
Another of our survey questions probed what kinds of higher-level uses companies were finding for RFID. To this multiple-response question, the overwhelmingly most popular response was for identification and tracking, with 71% noting this (see chart 3). But nearly 20% of respondents said that they were using it for automated triggering, such as for replenishment to production lines or supplier orders. Our experts agreed that sounded pretty sophisticated.
"It surprised me that some process-flow decisions were being made," says Casas. "My assumption is that has to be companies without high-water content products because one of the biggest problems we have is simply to get good reads. I'd be very leery of automatically making decisions based on reads."
"Most of what I have seen with RFID is for tracking purposes," adds Kueppers. "To trigger additional processes, or reordering is definitely feasible, but I think that is still in the early implementation stage. For a lot of companies like T&A, they are just happy to get consistent reads."
That's certainly true of Casas, who calls tag reading the company's biggest problem. It's one that has been echoed regularly over the past few years, but less so lately. One reason is that the use of Gen 2 technology has delivered improved read rates, something that Casas has seen in his own operations.
"We moved to Gen 2 technology in mid-2006," reports Casas. "We then saw 15- to 20-percent better reads on our end, and on Wal-Mart's end, too."
ConAgra also transitioned into Gen 2 RFID at the same time. Hubbell calls their transition to Gen 2 a smooth one. "We had a lot lower tag failure rate and better read rates," he reports.
Another promising improvement is near-field UHF, which permits tag reading around water and metal. Near-field RFID requires a different tag antenna design as well as a different reader-antenna than for far-field (conventional) UHF (915 MHz) Gen 2 RFID, but the reader remains the same. Some vendors offer ingeniously designed tags that permit both near and far field reads from a single tag. The caveat is that the tags, or presumably the tagged items, must pass within a foot of the antenna to be read.
This could be a much-needed boost for item-level tagging, because it provides improved read rates under even challenging conditions (proximity to water or metal or RF interference) and uses the same infrastructure as UHF. Item-level tagging is of special interest to pharmaceutical applications that may otherwise consider high-frequency (13.56 MHz) RFID.
A recent white paper covers near-field technology thoroughly and clearly (see UHF benefits updated, www.packworld.com/view-22105, published Oct. 2006). However, item-level tagging lagged other levels in the survey. Survey takers were asked to indicate the level(s) they were tagging, and in order of popularity they indicated: case (54%), pallet (43%), and item level (37%).
"I was surprised that only about half were tagging at the mandated case level," observes Casas, "while it appears that others are using RFID outside of a mandate."
Meanwhile, short of 100% read accuracy, packagers like T&A make deductive assumptions when it comes to reads of palletized cases.
"If I were to consider a nonread of a tag an exception, I'd be sending people all over the place for troubleshooting," Casas points out. "Instead, we look for data at certain points and really watch in a general way how product flows. We're also applying some artificial intelligence to the process; for example, if 20 of 30 boxes on a pallet are read, 'chances are good' that the other 10 boxes that weren't read were really there, too."
Maybe this explains why consultant Wagner feels that RFID activity has "quieted down" since the initial Wal-Mart mandate. Costs plus technical challenges plus payback concerns add up to a reluctance to deploy RFID "unless you have to." And even then, companies are doing the bare minimum to meet the imposed mandate.
Still, Wal-Mart has reported benefits to RFID in reducing its out-of-stock. For brand owners, that also should translate into greater sales, as Wagner points out.
"I do have visibility down to the store level," offers Casas, "and I had never had that visibility before! I see some very interesting things, such as when our product stays in a DC longer than it should. Long term, visibility could mean a lot to us."
Even Hubbell acknowledges the opportunity for useful information through visibility if it could tag 10% of a particular product and watch it spread out through its supply chain.
It seems that, for RFID, value apart from payback may be present-if you look hard enough.
Our panel of experts
Brian Wagner, founder and consultant, Packaging & Technology Integrated Solutions, LLC, www.pti-solutions.com
Tim Kueppers, president and consultant, Sense ID Corp., www.sense-id.com Both were also invaluable in helping craft the survey.
Tom Casas, vp information technology, Tanimura & Antle
Priyanka Gouthaman, a research analyst specializing in automatic identification technologies including RFID, Frost & Sullivan, www.frost.com
Phil Hubbell, manager, business analysis, supply-chain-warehouse management-RFID, ConAgra Foods, Inc.
What about pharma?
Companies in the pharmaceutical business face a whole different set of realities about whether or not to use RFID. Pharma auto-identification and RFID expert Priyanka Gouthaman of research firm Frost & Sullivan (www.frost.com) cites two diverse differences in how the RFID challenge is viewed within the pharma sector.
For existing pilots and deployments, such as Pfizer's Viagra and Purdue Pharma's Oxycontin, authentication for anti-counterfeiting remains the biggest driver. These brands, which are highly prone to counterfeiting, have high price-points and margins that permit absorbing the additional costs of RFID tagging.
Gouthaman points out that the cost factors play a large role in applications that are still considering or evaluating RFID technology.
"A case in point is the e-pedigree regulations that are expected to come into widespread effect in 2007," says Gouthaman. "A number of states, including Florida and California, have adopted their own e-pedigree legislation that can be complied with by using bar codes. The tight e-pedigree deadlines and the option to employ bar codes are likely to shift the momentum away from RFID since bar codes cost a fraction of what RFID tags cost." She feels that is a major cost-differential in favor of pharma companies that have bar coding as an option.
Still, in terms of RFID, that doesn't mean payback will arrive anytime soon.
"Given the present disparate rates of adoption, universal deployment of RFID throughout the value chain and the potential payback is likely to take time," she says.
Gouthaman also feels that the high percentage of respondents who were unable to comment on their payback (47%) and those unable to realize any payback (37%) were discouraging because "it would have a direct impact on future deployments." She also feels that lack of standard return-on-investment definitions and RFID expertise to evaluate that may be key contributing factors. She does hold out hope by noting that "pilots with clear predefined and realistic objectives are expected to overcome this challenge."
Companies in this article