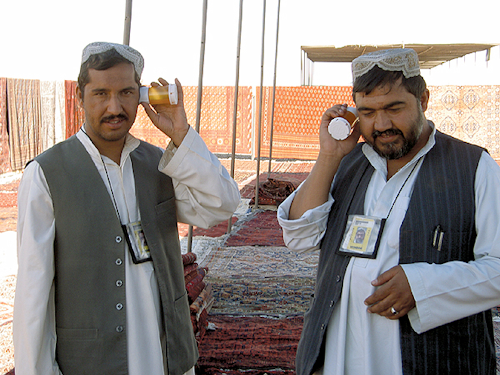 Particularly in many remote areas of the country where patients are illiterate and rarely speak or understand English. However, a recent 30-day field trial that involved physicians dispensing medications to Afghan patients in a "talking" prescription bottle named "Rex" showed promise. With the push of a button on the bottle, Rex spoke in several local dialects.
Rex was developed by MedivoxRx Technologies, a wholly owned subsidiary of Wizzard Software (see packworld.com/go/c126).
In Afghanistan, more than 1귔 bottles were distributed in the field trial, a decision made by the U.S. Army after several successful small-scale trials. Medical workers dispensed about 200 bottles to seven groups in the field. On average, more than 10ꯠ children per month receive medication from coalition forces just in Pashtun, Southern Afghanistan's remote tribal region. Reportedly, the U.S. Army has ordered more bottles for use in other parts of the country.
Rex is a completely self-contained disposable bottle that features microelectronic technology built into the base of the bottle. The technology "tells" a patient what the bottle contains, how to use it, how often to use it, and explains its side effects and warnings. Although the recordings can be computer-generated (down to the exact dialect) by a pharmacist through text-to-speech software (created by Wizzard Software), this particular application featured microphone recordings made by a native who speaks Pashto, the local language.
The packaging technology, now in its second generation, has the potential to save valuable time and allow villagers to become more independent. For example, coalition forces can drop off a supply of Rex-contained medication to a remote area where a local villager or the patient can properly administer it, rather than relying on a U.S. physician or volunteer.
Companies in this article