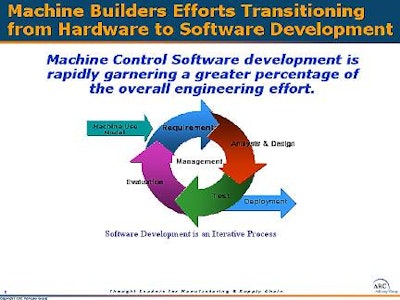 So writes Sal Spada, senior analyst at ARC Advisory Group, in a recently published brief titled "Software-management strategies for packaging machine builders."
Spada's premise is that by employing modular software development practices, a packaging machinery OEM raises machine value. He observes that more and more packaging machinery OEMs today find themselves building machines configured to custom specs. He also points out that the strategy most OEMs have identified to deliver this new breed of custom machinery is to leverage the modularity in both mechanical and electrical subsystems. On the mechanical subsystems side, great progress has been made, with increased use of servo motion playing a key role.
"However," says Spada, "under the hood the software development methods are lagging. In effect, machinery with a high degree of mechanical and electrical modularity continues to be controlled by software applications that are predominantly monolithic designs."
In the rest of his brief, Spada goes on to describe ways in which packaging machinery OEMs can bring modularity to their software-development practices so that they can cost effectively deliver maintainable machine-control solutions. "The goal," he points out, "should be to build up a library of software components that are validated and then extend the application through refinement." An iterative approach—the kind of thing suggested in the diagram shown here—is a key to achieving modular software-development practices.
For a copy of "Software-management strategies for packaging machine builders," contact Sal Spada at 781/471-1148 or sspada@arcweb.com.
Companies in this article