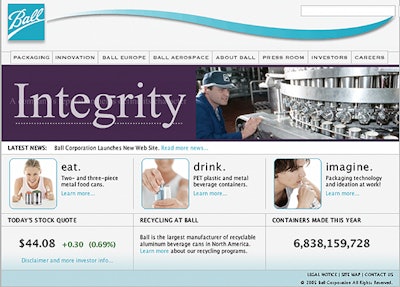 Ball Corp.
New Web site helps the company celebrate its 125th anniversary year. It reflects the company's emphasis on custom packaging and innovation, providing new features such as expanded product catalogs, a more extensive investors section, and recycling information.
Honeywell Process Solutions
Improved site now includes expanded content and easier navigation, as well as greater access to technical information such as brochures and application notes. New search capabilities make it easier for users to find information quickly.
Georgia-Pacific Signature Summary®
This online service for bleached board customers allows users to quickly enter Signature Solutions bleached board orders. Order entry feature offers information on shipments, orders, and invoicing history for all bleached paperboard customers.
BBF Printing Solutions
Redesigned site allows visitors to find product and service information and request a quote for specific applications or projects. An employment section and an up-to-date news section featured.
Companies in this article