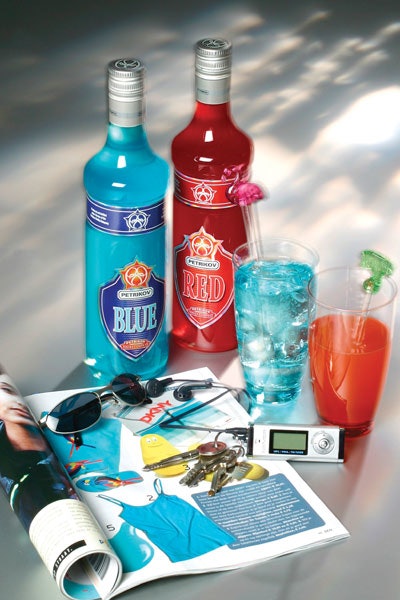 The labels won an award in an international labeling competition for the Didan, The Netherlands-based distiller.
Converted by Kolibri Etikettenfabriek, the labels use Fasson® high-gloss White Premium pressure-sensitive paper from Avery Dennison with S2000N permanent adhesive. Kolibri prints in seven colors and varnish, using a combination of rotary letterpress, UV screen, and flexo printing, in addition to foil stamping.
The back label uses the thermochromic inks to add a functional feature, a temperature-indicating "thermometer" that bears printed messages that become visible only when the vodka has been chilled to 7° to 8°C, what's called the ideal drinking temperature. One message: "OK! I'm cool! Drink me now!"
"To compete effectively on supermarket shelves and stand out among other drinks, the red and blue bottles—already strikingly vivid—needed equally striking labels that would bring the Petrikov brand name to the fore," says Norine Guerts, marketing manager at Toorank. Toorank licenses the Petrikov brand.
"From the very beginning, Petrikov Red and Blue have been an outstanding success in The Netherlands, our initial market," Guerts says. The company is preparing to launch into other European markets, and is also considering exporting to North America.
Companies in this article