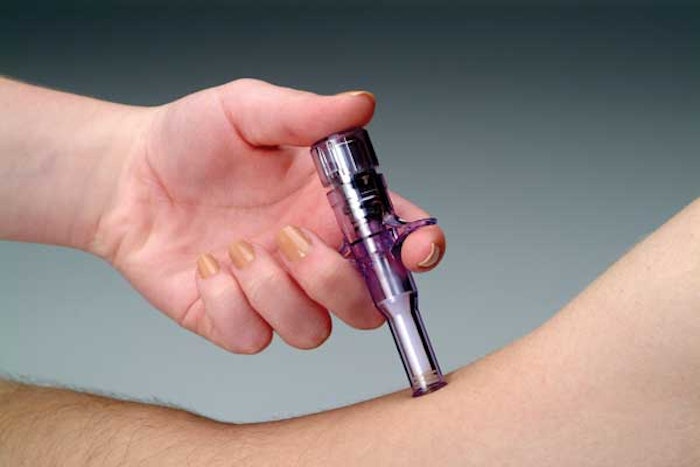 It can be administered in seconds by a caregiver or by patients themselves.
PenJet is the result of a 10-year development project, according to Tom Castellano, CEO with The PenJet Companies. "It's made of seven components, with the main housing being an injection-molded, medical-grade polycarbonate piece." PenJet uses DSM Thermoplastic Elastomers' Sarlink®, a rubber-like material, for a plunger piston and for the peel-off protective cover at the delivery end of the device. The plunger piston pushes the active ingredient, which can include a liquid or a powder with diluent, through the bore of the ampule that contacts the patient.
Not only did Penjet Corp. invent the product, Castellano says, but it also manufactures and assembles the various components, then sterilizes the completed units with gamma radiation before the device is filled. Filling is likely to be done by a drug manufacturer.
"To the best of our knowledge, PenJet is the only single-use, [nitrogen]-gas-powered device that can be filled aseptically," says the company in the DuPont entry form.
Castellano tells Packaging World that several pharmaceutical firms are conducting stability studies with PenJet, but confidentiality agreements prevent him from naming those firms. —JB
See the story that goes with this sidebar: 2004 DuPont Award Winners
Companies in this article