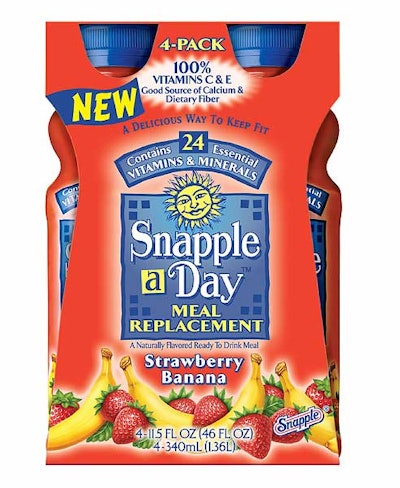 Each pack contains four shelf-stable, 11.5-oz shrink-sleeved multilayer barrier bottles of the ready-to-drink meals wrapped inside MeadWestvaco Packaging System's Cluster-Pak® sleeve pack. The sleeve's fold-up sides permit viewing of the bottles, while the other two facings provide a billboard for product copy. The 21-pt Coated Natural Kraft® (CNK®) paperboard sleeve is offset-printed in six colors.
The packs were developed largely in response to the multipack format success of industry leader Slim-Fast, according to Snapple national account executive Foster Garrison. In fact, Snapple's marketing literature cites figures showing that 85% of Slim-Fast sales are in multipacks. Garrison says they sought to gain better "eye" space on store shelves.
Snapple sales literature contends this format provides an "eye-catching, colorful billboard effect" to drive awareness and sales. It also states that the multipacks increase retailer "ring" at register, encourage pantry loading, expand trial use to other family members, and permit dual merchandising as singles or packs.
Available in six varieties, the multipacks sell for up to $5.89 in outlets such as Acme and Pathmark.
Companies in this article