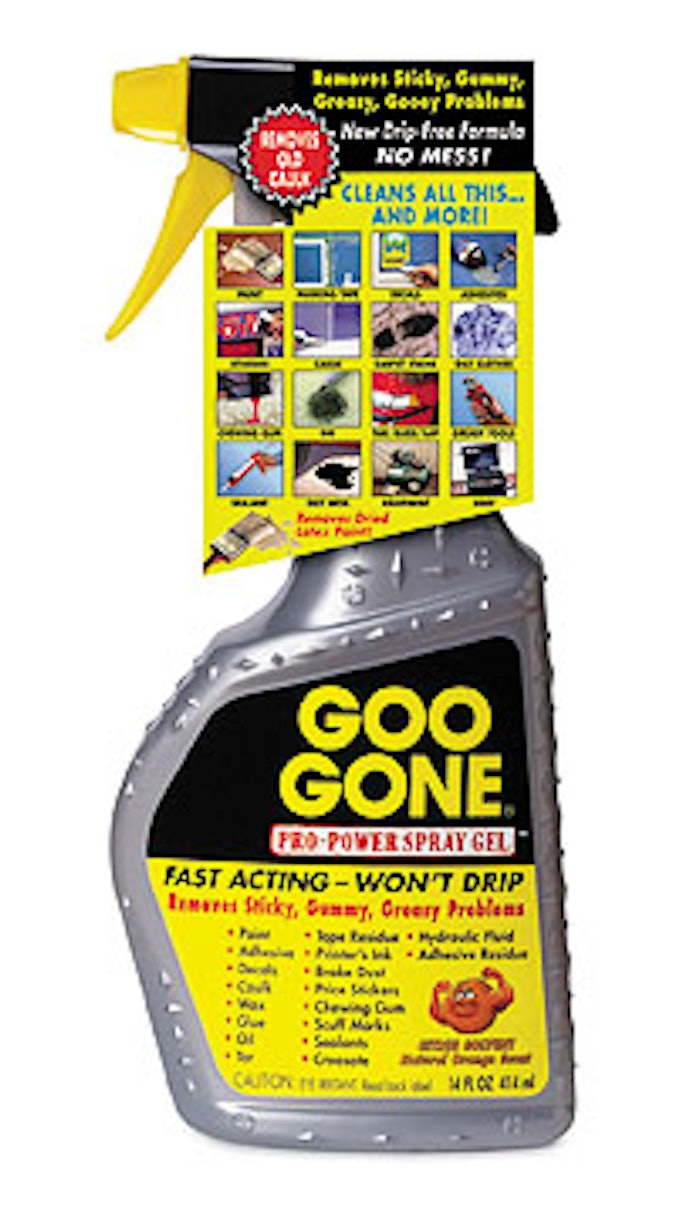 A drip-free, stronger-than-usual gel formulation for Goo Gone was unveiled in a 14-oz spray bottle at the National Hardware Show. The Goo Gone Pro-Power Spray Gel bottle is a first for the familiar citrus-based solvent from Cleveland-based Magic American Corp. It will appear in two versions: a polyvinyl chloride spray bottle targeting hardware outlets and a clear 12-oz PVC spray bottle that will debut later this year. The latter version, reformulated differently from the hardware version, will target female consumers, according to director of marketing James Zeilinger.
Zeilinger characterizes the industrial bottle, which is the more unusual of the two, as "packaging that's unique, yet fits the marketplace." It is blow molded of silver-pigmented polyvinyl chloride by Salbro Bottle (Cleveland). The bottle's color, along with a diamond pattern debossed on the surface, imparts a tough industrial look that resembles nonskid flooring. The pattern is reminiscent of that on Spalding's XFL football box (see May '01, p. 10, or visit packworld/go/xfl).
"Because consumers aren't used to seeing a texture like this on a bottle," explains Zeilinger, "we wanted that pattern to be just right, and not overly busy." He says that PVC was chosen rather than PET because of its molding flowability in the bottle's prominent left side "bump." The bottle is decorated with laminated front and back pressure-sensitive labels.
The package design was handled by Nottingham-Spirk (Cleveland, OH).
Colorful collar
Another unusual feature is the neck placard, or collar. "It showcases the number of uses for this versatile product," says Zeilinger. "It's a wonderful, yet inexpensive way to sell the product using a nice 'billboard.'" Rather than part of an introductory promotion, the three-panel collar will be a regular component on the package. The collar is offset-printed in four colors on SBS paperboard by Cardpak (Solon, OH) that's die cut, folded, and tab locked to fit over the trigger sprayer. The collar's main panel shows 16 small pictures that highlight various ways to use the product. The back panel provides a more comprehensive listing in printed copy.
It was also important that the collar not obscure the sprayer, Zeilinger emphasizes. Finding a stock sprayer that could dispense the Goo Gone gel was a bit of a challenge, he admits. It is supplied by Kaufman Container (Cleve-
land, OH) in the brand's familiar yellow and black colors.
The product is filled on the company's packaging line, where the collar is applied manually. Goo Gone's 14-oz hardware version can be found at Home Depot, at Kmart, and in the hardware section of Kroger. It retails for $4.49; the 12-oz consumer version will retail for $3.99.
See the story that goes with this sidebar: A better handling bag
Companies in this article