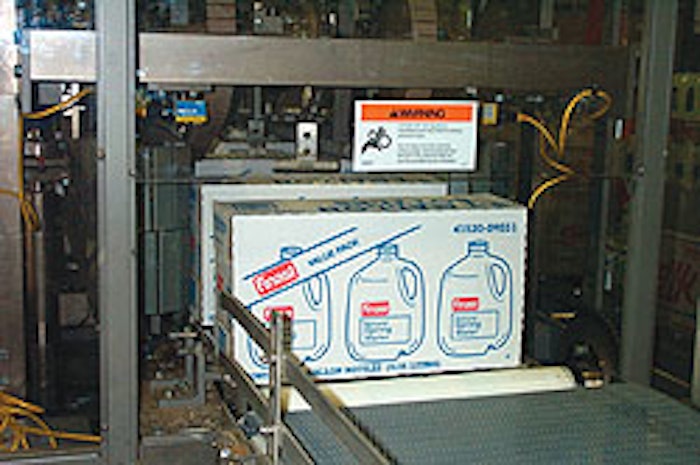 During Packaging World's visit, Nature's Way Purewater was producing 3-count "Finast Value Pack" cases of 1-gal Finast Natural Spring Water distributed by Foodhold USA, Chantilly, VA. The mottled white face stock of the 250# test, C-flute corrugated display-ready box is printed in two colors, red and blue, by Inland Paperboard and Packaging (Indianapolis, IN).
"It's the latest, greatest package," enthuses company president and CEO Fred Gubitose. "It's the wave of the future. The corrugated is wrapped tightly around the jugs, and the ends are folded in. It's beautiful and beautifully decorated, including displaying the customer's name. The graphics are a real selling tool—it doesn't even look like a box that's glued together. You'll find that some of the biggest companies will be going into it."
Gubitose sees this case replacing the 3 x 2 pattern packed in brown corrugated that's been the industry standard for years. Company and product information is then printed on the case online using black ink-jet coding.
"I think that box will be going out of style in the near future," he says. "At stores, those boxes are torn open and the gallons are shelved individually. That creates a lot of [corrugated] waste, and there's a lot of labor involved in getting the jugs on the shelf.
"With this package, there's no packaging waste for the stores. Economically and for the end user, this is a better all-around pack, and consumers don't have to handle individual gallons, they just tote the one box home." The 3-count box weighs 26 lbs.
See the story that goes with this sidebar: Big containers, big output done Nature's Way
Companies in this article