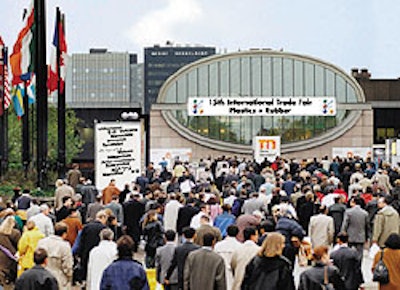 More than 2꺜 companies from 51 countries will exhibit at K 2001, the 15th International Trade Fair for Plastics and Rubber. Scheduled October 25 through November 1 at the fairgrounds in Düsseldorf, Germany, the event is expected to attract 265ꯠ visitors.
The theme of K 2001 is "Vision-Innovation-Business." At press time, 1.6 million sq' of net exhibition space in all 17 halls of the fairgrounds have been reserved by the exhibitors. A total of 1깇 (59.5%) of the exhibitors at K 2001 are from countries other than Germany. Italy leads the way with 431 companies, followed by England with 139, the U.S. with 135, and France with 115. Germany will be represented by 1걂 exhibitors.
Among the U.S. exhibitors are 63 companies that will be displaying their products within two U.S. Pavilions at the show. Located in Halls 3 and 5, the U.S. Pavilions are organized by Messe Düsseldorf North America and co-sponsored by the Society of the Plastics Industry.
Visitor registration and entrance pass sales for K 2001 are available online at www.mdna.com. One-day entrance passes can be ordered for $27 each, three-day passes for $57 each. Also available online is information about hotel and travel arrangements for the event.
New at K 2001 will be the show hours. In order to avoid conflicts between traffic to and from the fairgrounds and regular commuter traffic, the trade fair will open at 10:00 a.m. and close at 6:30 p.m.
Shown here are a few of the packaging-related products that will highlight the show.
Companies in this article