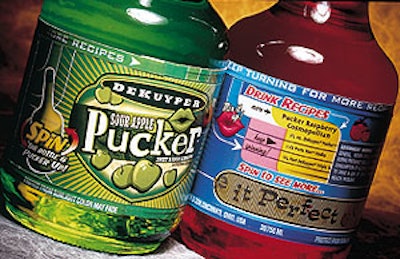 The two-ply label is UV-flexo-printed in eight colors with bold graphics, product name, logo, and bar code on its exterior ply, which is constructed of 2-mil biaxially oriented polypropylene. The stationary base ply, visible through an unprinted window on the exterior, reveals drink recipes. The pressure-sensitive inner ply is constructed of 2.6-mil BOPP and an adhesive.
Much of the label's graphic appeal comes from the outer ply's patented barrier grid window, which makes certain graphics on the inner ply appear to be animated as the label is rotated. By spinning the label, this grid window shows puckered lips and fruit graphics along with copy such as, "Paint the town Pucker!" and "Watermelon with a bite."
"The spin label is a great extension of the Pucker brand personality and encourages consumers to experiment with the product," says Chris Gretchko, group product director at Clermont, KY-based Jim Beam.
CCL uses a press to laminate just the top and bottom edges of the two plies together. Die-cutting separates the top ply from the bottom ply. The two edges then act as "rails," guiding the exterior ply and allowing it to be moved in a smooth rotating motion.
The Pucker Spinformation rotating labels are used on raspberry, sour apple, and watermelon flavors. They retail nationwide for around $8. (ALR)
Companies in this article