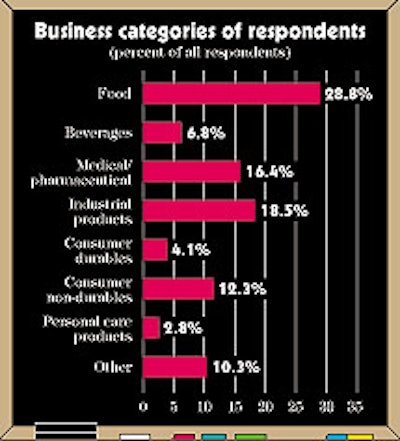 This report includes only packager responses to this online survey. The report identifies the respondents by business categories (Chart A). This list includes typical groups like food manufacturers or those companies that make medical and pharmaceutical products. However, to present a more accurate picture of the respondents, the author added some groups that are nontraditional.
For example, although a small group of makers of personal care products are specified, a separate category for consumer nondurable product makers is also included. Respondents in this group include makers of apparel, leisure products and other products that are expected to be replaced regularly. Another category, durables, includes companies that make long-life products like appliances, electronics like VCRs and computer products.
A separate report will focus on responses made by equipment or component manufacturers, those companies that traditionally conduct most of the training programs that packagers use.
See the main story that goes with this sidebar: Packagers eager for more training