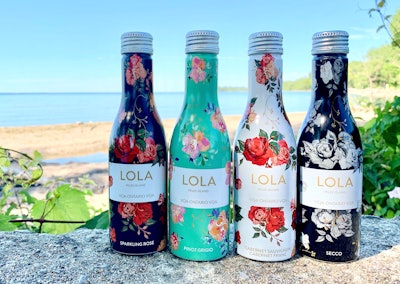 With its graceful, tapered-shoulder silhouette and stunning floral artwork, a new 250-mL bottle from Pelee Island Winery for its Lola line of four wine varieties artfully brings the aesthetics of a traditional wine package to an aluminum bottle format. Introduced initially in Ontario, Canada, the bottle and brand extension generated considerable buzz among the winery's retail and on-premise partners as well as excitement from Pelee's loyal followers when it was launched in spring 2021.
Pelee Island Winery gets its name from the island on which its vineyard is located. The largest island in Lake Erie, Pelee Island is Canada's southernmost inhabited point and is the country's warmest grape-growing region. From its 700-plus-acre vineyard, Pelee produces what it describes as a "diverse selection of approachable wines," primarily sold in Canada. But its wines can also be found in the U.S. in the Midwest, as well as in Europe and Asia.
---
---
According to the company, being able to have control of its grape supply allows it to grow and care for each and every vine to specifications strictly outlined by the World Wildlife Fund's strict Sustainable Vineyard Practice. Pelee's Lola series includes nine wine varieties that until recently were only available in glass bottles. One exception was a 250-mL slim can format for its Blush Sparkling Rosé.
"We launched our wines in a slim can in spring 2020 with success," shares Matthew Gale, Sales and Marketing Coordinator for Pelee Island Winery. "We were searching for more wine-friendly, greener packaging options to reduce our carbon footprint and respond to more consumer demand for single-serve, sustainable packaging. Lighter-weight and denser packaging options appeal to us as a way to reach our ultimate goal of becoming carbon neutral."
With the expansion of its canned wine into three other varieties—Pinot Grigio, Secco, and Cabernet Franc/Cabernet Sauvignon, in addition to the Sparkling Rosé—Pelee sought to enhance the consumer experience with the more sophisticated hybrid bottle can. "While we originally worked with traditional aluminum cans, we landed on aluminum bottles due to the convenience of resealability and integration to our current packaging lineup, along with their dynamic design," says Gale. "An added benefit is that the bottles don't look like beer cans and have a distinct appeal to wine consumers."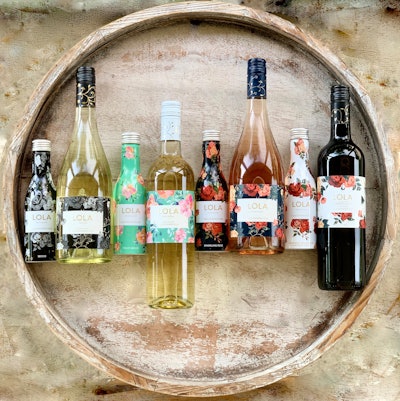 The stock bottle, from Trivium Packaging, is direct-printed in up to six colors, with each variety decorated with a floral pattern that matches the label used for their 750-mL glass bottle counterpart. According to Gale, designing the packaging on 250-mL aluminum bottles required a rethink from the 750-mL cohort.

Three of the varieties use a pattern of roses, with different colors employed for the flowers and background depending on the wine. The Pinot Grigio is decorated with delicate pink wine lilies against a green background. "The gorgeous floral illustrations on the bottles are an extension of the wines inside—high quality, great style, and approachable," says Gale. "These wines are appropriate to bring to a formal dinner party or a bonfire in the backyard." Each variety is topped by a silver screw cap that acts as an anchor to tie the line together.
---
---
Shares Gale, to coincide with the retail launch of the new line, Pelee ran an integrated campaign—"and the engagement was excellent," he says. "Lola is a strong brand with a strong following. Social posts featuring news and new product launches for this family are often some of our most popular.
"We are very excited to see how this grows as we move in through the first year of offering these products."
Pelee Island Winery offers its Lola line in the 250-mL aluminum bottle on its website for $65.40 for a variety pack of 12; single bottles are $5.45 apiece.
---
PACK EXPO Las Vegas and Healthcare Packaging EXPO (Sept. 27-29, Las Vegas Convention Center) will reunite the packaging and processing community. With over 1400 exhibitors, no other event in 2021 will bring together a more comprehensive gathering of suppliers offering new products, technologies, and solutions. Attendee registration is now open.
Companies in this article