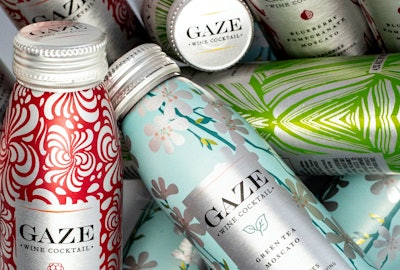 Once considered a niche category, canned wines have become mainstream in a market that until recently was dominated by glass bottles. Overcoming their fears that the aluminum-packaged product carried lesser prestige, and in turn, offered reduced quality, consumers have embraced cans for their portability, environmental attributes, and in a majority of cases, comparable taste.
According to data from Nielsen, canned wines experienced a 69% increase in sales from mid-2018 to mid-2019, representing nearly $80 million. And that trend promises to continue. As Rich Bouwer, President of Free Flow Wines, forecast in an article in The Wine Industry Advisor in December 2019, year over year, wine in cans is on track to grow at least 10%, increasing from 1% of the $70 billion wine market in 2019 to 10% in 2025.
And now a new twist: Wine in a "cottle," or a package that is a cross between a can and a bottle, is beginning to pop up on shelves across the country. Offering the same functionality and eco-friendliness as the can, the cottle also allows for unique shapes, greater differentiation, and resealability. Probably most well-known for its use by Coca-Cola, the bottle can is made of aluminum, is typically decorated by direct print, and uses either a metal twist-off cap or crown closure.
Whether designed as a single serving or for sharing, for a traditional, premium wine or for a sparkling, flavored, or cocktail-style variety, or for sporty, outdoor enthusiasts, yoga devotees, or concert and party-goers, cottles are taking canned wines to the next level.
Learn about new cottled wine products here:
New Wine Cottle is Wildly Exuberant
Pioneering low-cal, low-ABV, flavored wine company Fun Wine introduces its Hard Bubbly line in an aluminum bottle with vibrant artwork that pulses with a Miami vibe.
Mindful Relaxation Guides Bottle Design for Wine Cocktail
Sleek aluminum bottle with nature-inspired graphics offers an alternative to traditional glass packaging for a new wine cocktail geared toward consumers practicing a healthy lifestyle.
Dark and Alluring Aluminum Bottle for Red Wine
An aluminum bottle with a black body and a label with red metallic medieval scrollwork suits the mysterious and alluring Apothic Red brand.
Washington's First Winery Debuts Aluminum Bottle
Chateau Ste. Michelle introduces its first wine in a single-serve format, using a 250-mL aluminum bottle can with playful graphics for four fruit-driven varieties.
Aluminum Wine Can Delivers Rugged Luxury
New wine products aluminum bottles, or cottles, are geared toward a number of different lifestyles and occasions. Revelshine premium wine is 'designed to be taken off the beaten path.'