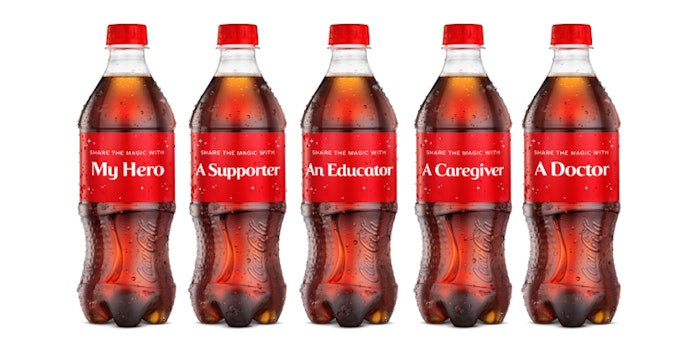 Coca-Cola's 2020 holiday campaign is putting family, community, and appreciation front and center, recognizing that the real magic of Christmas is connecting with one another—virtually or in person.
"It's no secret that 2020 has been a difficult year on so many levels," says Walter Susini, SVP of Marketing for Coca-Cola Europe. "Christmas is traditionally a time when people spend quality time with loved ones. However, given the year we've all had, spending dedicated time and being present in the moment with loved ones will be the priority above all else.
---
See: Jones Soda Labels Convey 'Messages of Hope' Amidst COVID-19
---
"Physical distance doesn't mean we can't be present. With the pandemic, we've seen how we are able to use technology to great effect to connect with those we love. We have opened our eyes this year to the fact that time is the most precious thing of all, no matter what form that may be in."
The campaign's creative centerpiece is a cinematic ad titled "The Letter," which captures a loving father's epic journey to the North Pole to make his daughter's Christmas wish come true. In the U.S., the campaign also includes a Share a Coke-inspired holiday extension of the company's new Together Tastes Better platform that unites fans and celebrates "everyday heroes" who have gone the extra mile during this unprecedented year to support their friends, families and communities.
---
See: Custom 'Guinness Gives Back' Pack Funds Community Relief Efforts
---
Seasonal Coca-Cola Original Taste and Coca-Cola Zero Sugar packaging featuring more than 40 monikers dedicated to everyday heroes—from nurses and teachers, to moms and grandparents— are available for a limited time in stores across the U.S. Fans also can visit CokeStore.com to send a custom 8-oz glass Share A Coke bottle to their personal heroes, and send social media shouts-out by tagging @CocaCola and using the hashtag #ShareACoke.