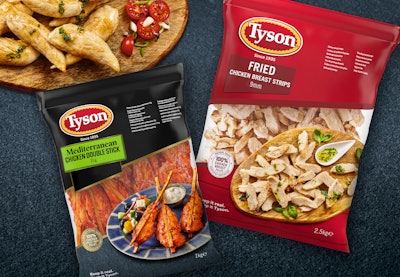 Earlier this year, Tyson Foods, Inc. approached full-service creative agency Pemberton & Whitefoord (P&W) with the challenge of designing the packaging for a new range of frozen chicken products for the Tyson flagship brand, to be launched in the European Foodservice market.
Tyson wanted to expand its offering in Europe to continue the brand's legacy with high-quality foodservice products, helping businesses, distributors, and chefs. The new range of 28 frozen poultry products is to be sold to restaurants, cafés, and caterers. The two-tier range—Speciality and Core—caters to a broad range of consumers and includes raw, skewers, and coated and fried varieties such as Southern Fried Crispy Chicken Mini Fillets and Coated Chicken Schnitzel.
After conducting market research, considering 2020 market trends, and studying packaging innovations, P&W produced and presented diverse creative solutions to the Tyson team.
P&W's design thinking behind the chosen concept was guided by five key principles:
1. To capitalize on consumer recognition of the Tyson brand
2. Bold color coding for strong product and range delineation
3. Mouth-watering photography to entice consumers
4. Unified incorporation of 13 languages
5. Product visibility via windows into the product
Says P&W, effective packaging speaks to consumers directly, through both visual and written language. There is a definite discipline to producing copy for packaging that consists of three key factors, it explains: empathy, lucidity, and spatial-awareness.
---
See it Live at PACK EXPO Connects Nov. 9-13: Cartoning Video Guide - Formers, Loaders, Closers, & Case Packers, by Delkor Systems. Preview the Showroom Here.
---
P&W was intrinsic to the crafting of the copywriting on both front and back of every pack and within the catalog and brochure. It was essential to encapsulate the informative yet personable tone-of-voice of the Tyson brand. From short product-descriptive copy for back-of-pack to extended explanatory prose for the product catalogue, P&W says it ensured that Tyson's visual and written brand messaging was entirely unified.The P&W team incorporated the recognizable Tyson brand logo at the visual entry point of each pack, and selected strong black branding for the Speciality range and confident red for the Core range.
Product photography is aligned to the bottom right of each pack, with gourmet products presented on garnished plates at a three-quarter angle for the Speciality range and on more rustic, textured boards at an (almost) overhead angle for the more casual-dining Core range.
Says P&W, it was essential to address the language and labeling needs of consumers to help ensure the success of the Tyson brand across all European countries. Therefore, packaging for each product integrates 13 languages on front and back of pack.
---
Read related articles on packaging design for brand extensions from Packaging World magazine:

A Jewel of a Presentation Box for Royal Salute Whisky
Packaging Carries Heavy Load for E-Comm Brand Extension
Baby teething biscuits bloom on shelf with a bold, colorful design
Mischievous Dancing Duppy Adorns Spiced Rum Label
Ingredient Illustrations for Salad Dressing Evoke Fresh-Market Experience
---
Says P&W Partner Adrian Whitefoord, who directed the project, "It was vital our team produce strong and communicative creative packaging which expressed high-quality and versatility of the Tyson products. Numerous languages provided clarity for chefs and stood out from competitor foodservice brands. We've succeeded in creating the new range, a catalog and packaging guidelines in our first project with the company. We look forward to partnering with Tyson again across their exciting and growing portfolio of products."
The packaging is also fully-recyclable with items produced in Europe packaged in 50% bio-based plastic material and items from Thailand and Brazil packing in recyclable monolayer plastic.
The shelf life of all of the products is 18 months, and they are portion controlled, encouraging zero-food waste.
As a full-service creative agency, P&W also produced comprehensive brand guidelines to ensure cohesive brand messaging and produced the brochure design as well as explanatory data sheets to help sales teams and foodservice customers.
The confident brand slogan "Keep it real. Keep it Tyson" is integrated across marketing collateral, including exhibition boards, signage, and uniforms.
Companies in this article