A striking presentation box is helping to underline the significance of the latest addition to Royal Salute's permanent range of scotch whiskies produced by Chivas Brothers. Royal Salute, the "King of Whisky," was first created as a gift for the coronation of Queen Elizabeth II in 1953 and has since been the official partner of all ceremonial royal gun salutes fired at the Tower of London.
The new 25-year-old Scotch whisky, The Treasured Blend, was created by Master Blender Sandy Hyslop and was inspired by the Crown Jewels of England, "bringing together precious and powerful whiskies first laid down a quarter of a century ago and today fit for modern royalty," says Pollard Boxes, which created the presentation box for the new addition.
The key requirement for the packaging was to convey the luxuriousness and premium nature of the new whisky, ensuring high impact on-shelf and delivering a superior opening experience for the consumer.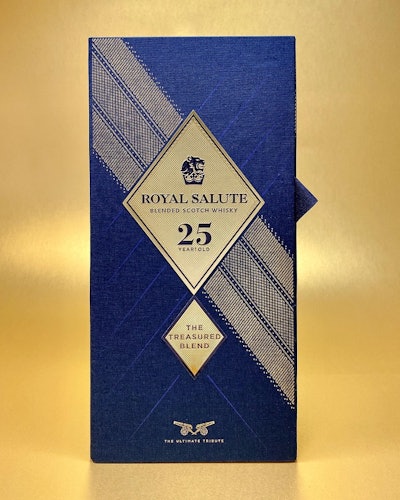 The box is manufactured in a book cloth material combined with intricate, fine gold-foil patterns and text throughout. The special double-door design incorporates two highly detailed metallized labels on the front and then opens to reveal a stunning panoramic illustration from Royal Salute collaborator and fine artist Kristjana S. Williams. This depicts the animals of the Royal Menagerie attending a coronation celebration surrounded by the precious Royal Regalia at the Tower of London.
Says Pollard, the open weaves in the book cloth required complete attention to detail during the foiling process by its in-house team. A similarly high level of technical skill was required in the production of the five-door design, combining traditional production methods with the latest automated equipment, the company adds. 
The box also incorporates Pollard's FOTL (Front Opening, Top Loading) technology. According to the company, this provides a faster and more efficient packing process by allowing the bottle to be placed into the box while remaining in a case of six for onward delivery. The lid is then locked into place, enabling the box to be opened from the front for effective display on the retail shelf. Vacuum formings in the lid and base hold the bottle firmly in place throughout the distribution chain.
"The 25 Year Old Treasured Blend continues Royal Salute's legacy of distinction for elegantly crafted Scotch whisky," says Richard Neil, Project Manager, Chivas Brothers. "The presentation box delivers exactly the exceptional quality of appearance and finish required to reflect the premium nature of the whisky to our global consumers.
Companies in this article