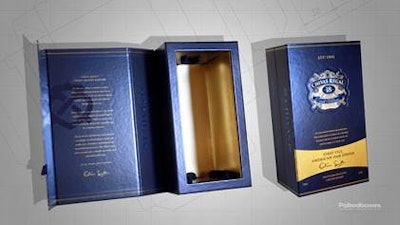 Chivas Regal Scotch Whisky has introduced the limited-edition Chivas 18 Ultimate Cask Collection, a travel retail exclusive reinterpretation of its renowned blend Chivas 18, in a custom presentation box from Pollard Boxes.
The box has been designed to combine high-impact shelf presence with an enhanced opening experience for the consumer, while ensuring the bottle remains fully protected throughout the supply chain. It is manufactured in metalized polyester film laminated to paper (MetPol), and uses a variety of decoration techniques, including eight UV colors, gloss spot UV, matte spot color, and embossing, to create its distinctive appearance.
The choice of material provides the rigidity and robustness necessary to protect the bottle while in transit and on-shelf, and ensures minimal scuffing and wear to the edges. In addition, polystryrene blocks and vacuum-formed fitments have been incorporated to create a frame to house the bottle. According to Pollard, this increases the overall rigidity of the pack, and ensures the bottle can be held in place and presented to the consumer upon opening.
The presentation box is blue, echoing the blue on the bottle's label, while a gold panel toward the base of the front highlights the unique properties of the whisky, which has been finished in first fill American oak casks to enhance its vanilla and caramel notes. The same gold is used for the casing inside the pack.
The intricate label on the front of the box—which is a replica of that on the bottle—uses print embossing and debossing to create a raised area, giving the impression of a separate label. Notes Pollard, this provides another high-impact visual element, as well as minimizes the cost of production.
A jacket door opening, a hard case-made book jacket affixed to the package, with magnets also adds rigidity to the pack and offers the consumer a "reveal" opening experience. This is further enhanced by the inside panel, which provides a brief explanation as to how the whisky was crafted.
"We are delighted with this presentation box, which is thoroughly practical while projecting the iconic, ultra-premium image of our whisky," says Frazer Birch, Project Manager for Chivas Regal. "Pollard has interpreted our requirements exactly and produced what is a complex and technically-challenging design within a tight timescale and to a strict budget."