All-natural, U.K. condiments brand Dr Will's has unveiled a transformation of its brand identity and packaging, with design by B&B studio. Launched in 2017 with a mission to make healthier versions of ketchup, mayonnaise, and BBQ sauce, Dr. Will's relies on natural sugars and healthy fats to create products with zero compromise on taste—the raison d'etre of the condiments category.
B&B's design brings flavor to the forefront with full-color labels that create a rich and foodie palette across the range. The design introduces a new brand equity—an exclamation mark—executed on-pack in complementary color tones and featuring an ever-changing dot to designate flavor. Says B&B, from a tomato or beetroot on ketchups, to an egg or avocado on mayos, the dot delivers additional taste cues in a fresh and witty way.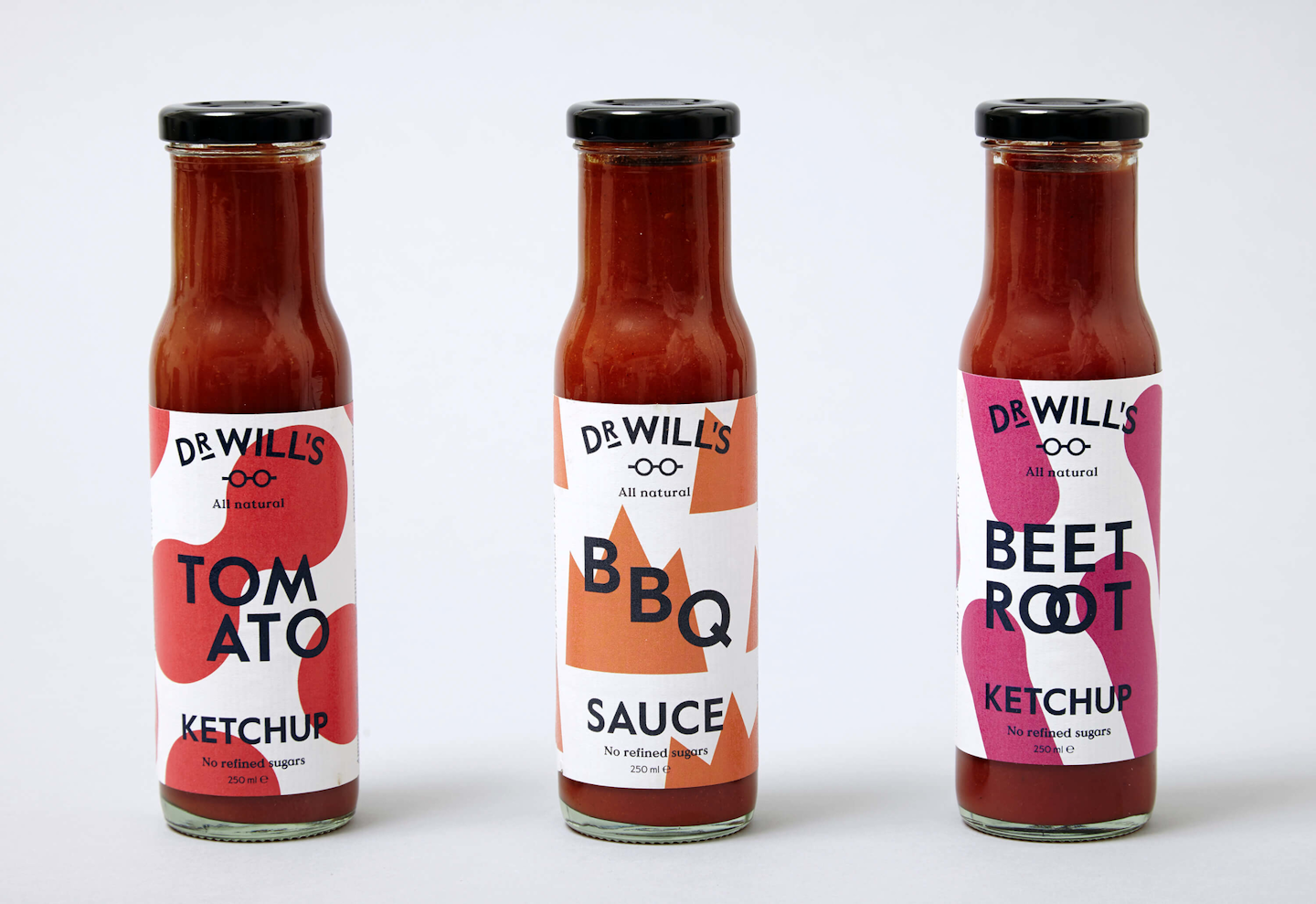 Dr. Will's BEFORE the redesignAs a small brand in categories heavily dominated by big mainstream players, Dr Will's has to make an impact where it matters—on the supermarket shelf. Traditionally, niche sauce brands conform to premium codes that successfully communicate their product superiority, but they can get lost on shelf and tend to alienate more mainstream consumers. For B&B, creating a design for Dr. Will's that captured "mainstream premium" was essential, enabling the brand to broaden the appeal of better-for-you sauces and encourage consumers to question what goes into the dominating brands. The exclamation mark was the perfect design solution, B&B says, instantly grabbing attention at shelf and challenging the habitual behavior that characterizes shopping within the sauce aisle.
The design is accompanied by playful messaging that brings clarity to Dr Will's difference and delivers product information with a punch. Says Shaun Bowen, Creative Partner at B&B studio, "The new Dr Will's identity combines stand-out with sophistication for a brand that feels premium, yet utterly accessible. We've created a design that celebrates flavor and sets the stage for the brand's fast-growing range of condiments. Clean and simple with a big personality, it perfectly captures the essence of the product."
Dr Will Breakey, co-founder of Dr Will's, says, "We know that condiments are bought on auto-pilot, but the big brands use a lot of additives and hidden sugar, and we want to give people a better, healthier option. We therefore needed a bold design that would grab shoppers' attention, pique their interest, and let them know that there's a new sauce on the block. The new logo and exclamation mark brand equity works on many levels as it creates standout whilst being a nod towards the idea that change is needed in the category—and that people should stop and think before they choose what to buy. It also lets us have fun when differentiating our product variants."
Companies in this article