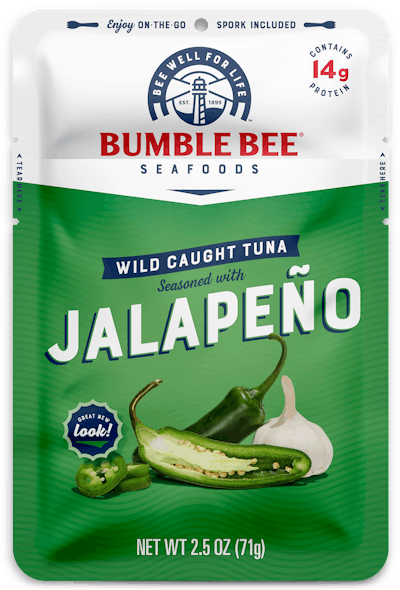 With new packaging that has been recognized by Graphic Design USA as a winner in the 2020 American Package Design Awards, Bumble Bee Tuna opted for a modern look with clean lines and an increased focus on flavor.
But stealing the headlines, Horatio, the familiar cartoon character on Bumble Bee Tuna cans and pouches, is no longer part of the design architecture. Fortunately, it was less of a politically motivated decision than other recent retirements, like Land O' Lakes dropping the "butter maiden" or Animal Crackers "freeing the beasts" by removing the cage bars.
"We retired Horatio after many years of serving us well," says Renee Junge, Vice President, Corporate Brand Strategy and Communication, The BumbleBee Seafood Company. "Our main goal in retiring Horatio was to allow the benefits of the product to shine a bit more. We serve one of the most nutrient-rich products on this planet and we wanted to be able to tell that story without being distracted by our adorable, now retired, mascot."
The packs, whether in the flexible pouch or traditional canned tuna format, are materially and structurally nearly identical to the incumbent container formats. However, on the pouch, the company now employs a rectangular design instead of the previous dome-shaped, rounded top.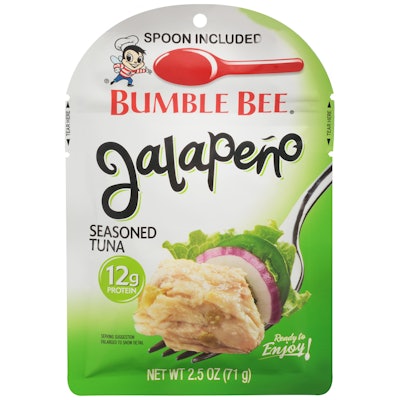 "Our research showed that one of the biggest pain points with the pouch package was the inability to enjoy the contents at the bottom of the pouch," says Junge. "A longer utensil with prongs [a spork] addressed that issue. In order to have room for the longer utensil we did need to provide more room, thus eliminating the dome shape. There were no production issues with this."
Also notably absent from the new packs are any image of the tuna product itself. According to Becky Nelson Dahl, Partner at design agency Bex Brands, the flavored pouches are found in a large shelf set of tuna, so the design emphasizes the flavor ingredients, creating taste appeal with fresh ingredient photography and differentiating from competition amid a wall of tuna.
The new pack design uses a revised "Bee Well for Life" logo, which directs consumers to online resources explaining tuna's healthfulness. When Bumble Bee tested this new approach with consumers, the company says the responses were overwhelmingly positive as it reminded consumers how healthy the tuna is.
The new packs demonstrate a shift from casual, irregular scripted typography to a stronger, less stylized no-serif type. The design background switched from a dissolving color gradient, fading from the primary color (green for jalapeño or maroon for chipotle), to white nearer the top of the pouch. Now the pouches use an abrupt, well-delineated break from the white at the top to the color at the bottom with no gradient, just the two contrasting colors. This has been a trend for on-shelf brands of late, as evidenced most recently by Bayer brand Midol and its design choices during last month's rebrand.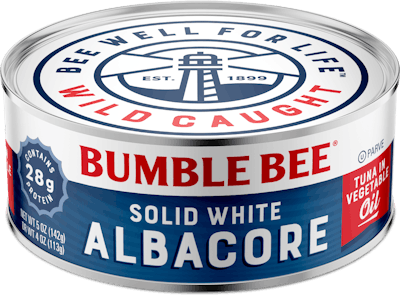 "The old typography didn't feel like it was an accurate reflection of Bumble Bee's heritage or strong value set. It was also difficult to read on a busy shelf," says Nelson Dahl. "The updated typography resolved those issues. Bumble Bee is spearheading innovation in seafood—from adventurous recipes to more sustainable fishing. It is doing so in a bold and certain way. The stronger structure and decisive shapes help communicate that. While the front didn't really change that much, the back changed dramatically. The previous packaging spoke mostly to usage and the updated packaging leans in on flavor."
Companies in this article