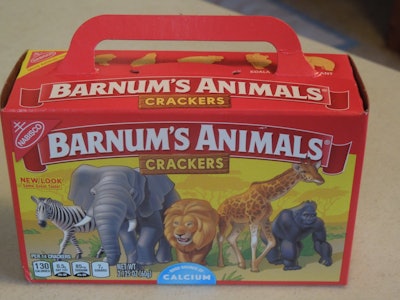 Political correctness has reared its head even in the cookie aisle, where redesigned packaging graphics on the colorful box of Mondelēz International's Nabisco-brand Barnum's Animals Crackers note a "NEW LOOK, Same Great Taste!"
The venerable kid's snack, which reportedly has been around for 116 years, features new front-and-back-panel graphics depicting a zebra, elephant, lion, giraffe, and gorilla wandering freely. Gone are the boxcar cages that held the animals in the iconic box's previous graphics. Those graphics, and the product's name itself, emanated from the Ringling Brothers and Barnum & Bailey Circus, which ceased operations in 2017, reportedly from a combination of weakening sales, high operating costs, and pressure from People for the Ethical Treatment of Animals, or PETA.
The vibrant graphic redesign spruces up the box, which includes a convenient carry handle, but as many media outlets have reported, the change is linked to pressure from PETA to "free" the beasts from those boxcar cages. An Aug. 21 AP report noted, "Mondelēz International, the parent company of Nabisco, has redesigned the packaging of its Barnum's Animals crackers in response to pressure from People for the Ethical Treatment of Animals. PETA, which has been protesting the use of animals in circuses for more than 30 years, wrote a letter to Mondelēz in the spring of 2016 calling for a redesign."
The AP story quoted Jason Levine, Mondelēz's Chief Marketing Officer for North America, saying, "When PETA reached out about Barnum's, we saw this as another great opportunity to continue to keep this brand modern and contemporary." Rather than being transported in boxcars for the circus, the animals shown on the new boxes now wander side by side through a grassy field, with acacia trees behind them.
PETA's website described the "animal liberation" this way: "Big victories can come in small packagers, and no matter where we look, we find new evidence that people are embracing compassion for animals like never before. … The new box for Barnum's Animals perfectly reflects that our society no longer tolerates caging and chaining exotic animals for circus shows. PETA is celebrating this redesign just as we've celebrated the closure of Ringling Bros. and Barnum & Bailey Circus and an end to the use of wild animals in many other circuses."
Watch a USA Today video describing story behind the packaging change.