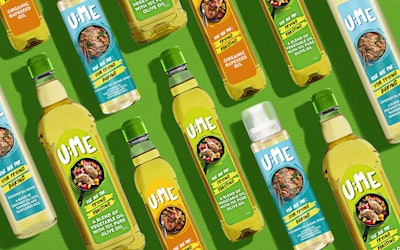 Edible Oils Limited (EOL) has launched U:ME, a new range of specialty cooking oils with brand strategy, design, and naming by design consultancy Brandon. The U:ME range will initially include Sun-Olive, Coconut, and Organic Rapeseed variants with other variants to follow, and will began rolling out in major retailers this month.
Read more stories on new product package design from Packaging World at:
"'Haircare for Foodies' Gets Equally Appetizing Packaging"
"Nostalgia, Modern Art, and High-Tech Coalesce in Skincare Sampler Pack"
"Wine is 'Untouched by Light'"
"From Dark to Light: Hope in a Jar"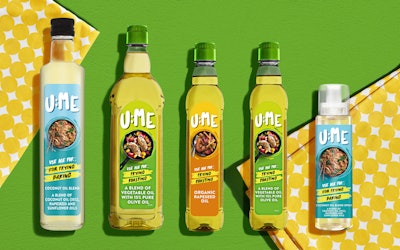 EOL wanted to create a new product in this category in response to a growing demand for specialty oils. There was a clear gap in the market for educating consumers by demystifying oils and creating honest, no-nonsense shortcuts on the best way to use them.
Says Simon Ellis, Creative Director at Brandon, "Shopping for oils is functional and often uninspiring. With varying levels of engagement towards cooking in the U.K., consumers are largely unclear about which oil to choose and why. Specialty oils are even more unfamiliar.
"The oils category has a wide range of products, all with different benefits and usages but with no consistent product truths running through. So our challenge was to create a brand that would not only demystify the category, but also help to inspire confidence in the kitchen."
According to Brandon, the U:ME packaging is completely different to anything that currently sits on shelf within the oils category. The packaging presents a lively and approachable brand with an educational tone of voice. The bright on-pack color palette packs a punch and—paired with delicious food photography—challenges the norms found in the category.
Says Ria Joyce, Senior Marketing Manager at Edible Oils Ltd., "Brandon has successfully created an exciting new brand for the Edible Oils portfolio. We are so excited to be launching this range and look forward to what is next for U:ME, with its strong innovation pipeline in place. Brandon is now working with us to develop an exciting and ownable communications campaign to support this launch."
Adds Steve Conchie, Creative Director at Brandon, "We're so proud of our work, developing U:ME to help shake up what is usually quite a serious category. The name lends itself to fun and educational brand campaigns in the future which reflects how U:ME wants consumers to think about cooking."
Companies in this article