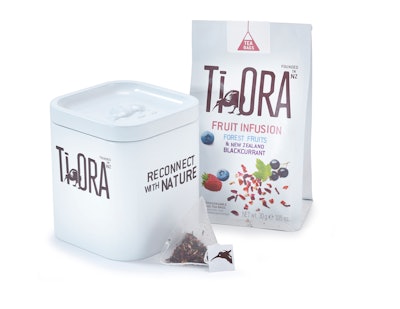 There are two components to every package design: its structure and its graphics. When the two are done in concert to align with the brand message, the results can be powerful. Last year, Ti Ora, a New Zealand-based brand of Jacobs Douwe Egberts, launched a custom tin for its range of whole-leaf teas that was painstakingly designed with this strategy in mind. 
Ti Ora, which in Maori translates to "tea of wellbeing," is a brand "founded and grounded" in New Zealand and deeply rooted in nature. Its teas are made with natural ingredients, including hearty chunks of New Zealand botanicals and large-cut tea-leaf pieces. Given these brand attributes, the premium-positioned range is targeted at discerning consumers who value natural wellbeing and a reconnection with nature.
In 2017, not long after acquiring the brand, JDE commissioned brand design firm Turner Duckworth to create a new identity and packaging for locally-based Ti Ora for launch in Europe and China. In its early development stage, the new identity revolved around a clean, white design with bold typography and a kiwi bird character. Into the mix, JDE brought in virtual design and branding agency Brown&co to develop a custom tin for gifting that would complement the brand's existing pouch packaging on shelf.
Read more stories on new product package design from Packaging World at:
"Haircare for Foodies' Gets Equally Appetizing Packaging"

"Nostalgia, Modern Art, and High-Tech Coalesce in Skincare Sampler Pack"

"Wine is 'Untouched by Light'"

"From Dark to Light: Hope in a Jar"

"The challenge was to develop a custom tin, primarily for the Chinese market, that would encourage purchase and gifting occasions," explains B&c co-founder and 3D Director David Bicknell—or "Bic," as he's known. "The central aesthetic requirement was that the tin should be distinctive and stand out on the complex and cluttered shelves but also reflect the unique values of Ti Ora." These include its message of reconnecting with nature, and a brand with a New Zealand provenance that contains natural ingredients with a New Zealand twist.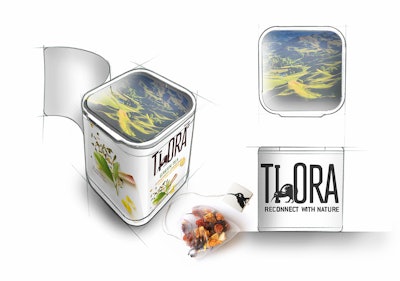 To the project, B&c brought its unique integrated, multidisciplinary approach, with 2D (graphics) and 3D (structure) considered holistically during the design. Bic says the firm explored a wide range of creative territories and sketched conceptual ideas for a tin structure inspired by different elements of the brand identity. "While respecting the visual impact of the bold typography and endearing personality of the kiwi character, our work pushed at the boundaries of tin manufacturing capability because we wanted our Ti Ora tin to possess unique qualities that would stand out on shelf and demand to be picked up and touched," Bic says.
The winning idea was a tin having a 3D lid with precisely defined, sculptured features, including a 3D kiwi bird. "In keeping with the Ti Ora brand values of honest simplicity and sensorial tactility, we created a form with pure cube dimensions executed with understated and meticulous detailing," Bic says.
To explore and evaluate the proposed form, including the sensorial qualities—e.g., the way the radiused corners are formed, the quality of the seam, the fit of the lid to the tin, and the sound the lid makes when it's removed—and ergonomics, B&w developed what it calls the "cube and emboss concept" using a combination of CAD, rapid prototyping, and traditional modeling techniques. The models were used for presentations to senior stakeholders and, over the course of several iterative stages, Bic says B&w exchanged data and engineering drawings with the toolmaker and tin manufacturer to define every detail of the design to ensure they could deliver the design intent to the market.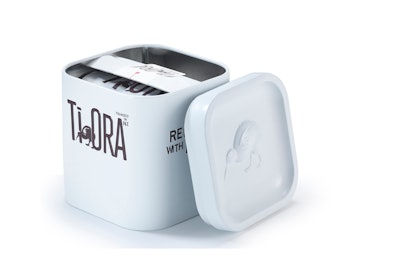 The tin lid proved challenging to manufacture due to the depth of the forming combined with the detail B&c wanted to achieve with the 3D kiwi bird, but according to Bic, the tin supplier was able to execute the design as envisioned using proprietary, cutting-edge technologies.
While designing the tin structure, B&c also collaborated with Turner Duckworth to fine-tune the graphic elements of the package in a way that would reflect the natural simplicity and mindfulness suggested by the brand. The result is a white tin decorated with only the Ti Ora logo and tagline, "Reconnect with Nature," both of which are embossed. Adds Bic, "So that we could deliver a storage container suitable for displaying out in the kitchen, we incorporated a printed carton wrap to carry information, which could then be removed, leaving a pure, minimal pack for long-term use."
The final 97 x 97 x 110-mm gift tin of loose tea bags was introduced in China and Europe in Q4-2019. At presstime, Bic relayed that the package had not been on the market long enough for JDE to have received consumer feedback.  

Companies in this article