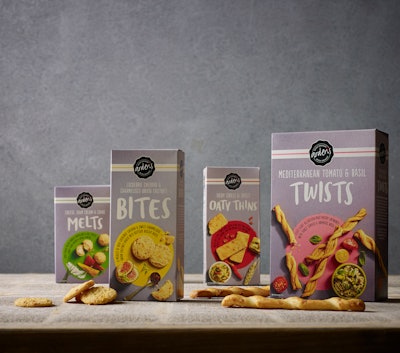 Predicting and acting on color trends is one way package designers can deliver designs to their clients that stand out on shelf and position them as trendsetters. It's a rewarding exercise to lead the conversation when it comes to identifying global affinities for certain palettes and hues and how these can be adapted to packaging, helping steer particular trends to the supermarket shelves in the months and even years to come.
At Equator Design, we examine indicators from a multitude of disciplines to track trends both big and small, with the ultimate goal of assessing which ones will affect or be suitable for the retail market. Each of our teams scrutinizes trends across all sectors, as we look to draw influences from a variety of non-food categories such as DIY, interiors, fashion, etc. We also monitor trends from a local, regional, and worldwide perspective, examining the paths they follow and mapping their progress over time.
After years of ongoing research, we have learned where we most need to focus our investigations and have come to understand how different areas and disciplines affect each other. Through our research, we're able to look into the future and predict what's on the horizon, placing us in a proactive position.
As we follow color trends, we look at areas such as:
· Fashion: This includes catwalk shows and international fashion weeks, luxury, High Street, and niche fashion brands, the interplay among markets, and how movements make their way to the retail shelves.
· Current affairs: What is happening in the world has a direct impact on the mood of consumers both locally and globally, which in turn affects their emotional response to what they are looking for and what attracts them.
· Social media: Social media lends insight into emerging artists, popular art, and design. In short: what's hot, and what's not.
· Events: Occasions such as anniversaries and celebrations remind us what's happened, and what significant events are ahead.
· Traditional research channels: These include consumer feedback and reports, which help us understand consumer behavior.
Our experience mapping trends enables us to examine how they've developed over time and how the latest of these may be similar to or different from what we've observed in the past. And time is certainly a critical factor: Consumer Packaged Goods brands need to work at least 12 to 18 months ahead in launching products due to the production demands of the retail sector. Christmas ranges, for example, start 18 months before they are due in-store, and products sourced globally need to have time to be shipped. As time to market for the retail community shortens, we are seeing the High Street needing to become ever more agile.
Color trend adaptations: the food market
There are many specific category color cues as well as a number of general rules the food packaging sector adheres to in terms of which shades are suitable. These stem from both a desire to appeal to consumers' appetites as well as technical restraints, including in-store lighting and challenges related to package printing.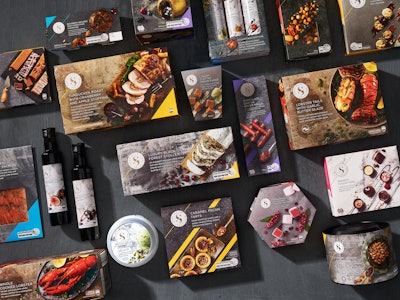 The in-store lighting of supermarkets, especially in the areas where refrigerated and frozen products are displayed, has a dramatic impact on color perception. Even the effect of a backlit fridge or an obscured freezer door must be taken into account when colors are chosen.
When it comes to printing, there are several things to think about—for example, the number of printing stations or plates being used and their effect on the packaging substrate. Though it's often trickier to recreate some colors when printing at the high speeds required for retail packaging, the production experience within our team means we not only know the limitations of different print processes and substrates but we also know what questions to ask of the printers involved in the project to ensure their equipment can deliver the finished pack true to the design.
Clients' insights are also crucial in the selection of color, so it's vital to keep an open dialog with them during each stage of the design process. Some have very specific thoughts on color, and while a designer may present them with research around their target market or the latest trends, their input is indispensable.
It's likewise important to be mindful of any specific color "sacred cows" that may affect the design, including category cues, seasonal stalwarts, and competitor palettes. Other factors may include strategic considerations such as tone of voice, targeting, differentiation, and positioning.
A cool future
In the future, we're in for a cool-colors renaissance of sorts. Overtly warm colors such as Pantone's 2019 Color of the Year, Living Coral, will give way to cool colors such as 2020's expected shade celebre: Neo Mint, which is a pastel shade of green.

These cooler shades may be in response to a number of developments in recent years. During that time, we have seen the Scandinavian style evolve repeatedly, with an aesthetic espousing cool, clean lines and an uncluttered approach, which has proved enduringly popular. The anniversary of the moon landing this year and the Mars Rover mission in 2020 are also influencing a lunar color palette, while environmental concerns involving a longing for cleaner oceans and purity in our provenance are bringing forth a sea of blues and greens.
Since we often find that in stressful or uncertain times people tend to revert to traditional, reassuring, or safe choices from their past, the rise of cool colors certainly feels forward-thinking.
However, nothing is unique, and examples of a widespread cool color palette can be found in Georgian Britain (1714-1837), where the shades of Georgian interiors are reminiscent of what we're seeing emerge today. Included in this palette are colors such as Sky Blue, Vert de Mer, Laylock, and Celadon—a color not so dissimilar to Neo Mint.
Adaptation
A palette of cool colors need a degree of adaptation to work well in food retail. If they're not utilized correctly, they can come across as clinical and fail to inspire homeliness in the traditional sense. However, there is certainly an emerging trend of food ranges adopting cooler color palettes, especially when it comes to fresh, low-fat, and dairy categories.
Therefore, alongside the cooler color palettes will come the need to seek alternatives that reflect the trend but suit the food retail market. As we narrow down to our final verdicts on what colors we will be using in our designs in 2020, we are most likely to choose alternative hues that will work harmoniously with cooler colors. Greys are becoming more widely used, with medium or warm greys preferred over the cooler varieties. Other alternatives may be chosen from among mustards, violets, and dusty pinks, which tend to accompany cooler hues beautifully.
We've been working with a variety of brands on package design inspired by contemporary color trends including U.K. snack company Arden's and British convenience store Co-op, as well as Aldi Australia on their Specially Selected range.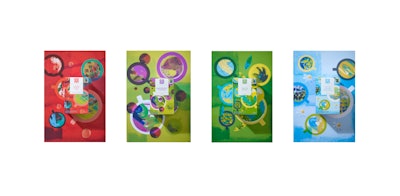 When it comes to Arden's, the muted color palettes were chosen to reflect the originality of their new home-baked flavor combinations while appealing to a broader audience. A soft, cool grey was brought in to unify the range, replacing the more somber black that went before. Photography produced in-house delivers all the vibrancy needed to articulate Arden's "never ordinary" essence and artisan feel. According to the snack maker, the revamp has helped secure new distribution for the range.
The Aldi Australia Specially Selected range also adapted a muted color palette to capture the expressive nature of food, combining this with bold pops of color. The aim of the paired back-color options was to elevate and "future-proof" the brand as well as ensure a distinguishable new premium look that stands out from the everyday.
At the other end of the "spectrum," the package design for a range of tea products from U.K. supermarket chain Co-op comprises a kaleidoscope of colors that communicates product attributes such as fun, modern, healthy, and flavorful. Targeting a younger consumer looking after their health, the packaging design needed to work within fixed brand guidelines while building on the bright, illustrative style already popular in the sector and utilizing distinctive color choices to achieve shelf standout for this private brand within a very competitive brand-name market.
The final word on color
Color predicting needs to be seen as exactly what it is: predicting. Our final choices will be judged on how much the color, tones, or palette are used by other people, and this is, in itself, is a double-edged sword. Which would you rather do: select something everyone else is using and blend into the crowd, or stand out as an individual?
Once all the research and input have been quantified and debated, there is still that unquantifiable element of experience and talent that the designer and team bring to the project.
So, how do we arrive at a final decision from a countless palettes and an infinite supply of shades? Is it reason? Is it instinct?
Actually, it's a bit of all of the above. But when everything comes together in a final packaging design that achieves shelf standout and sets trends, we know our research and attention to detail, particularly when it comes to color, have been well worth the effort.
Howard Wright is Senior Creative & Strategy Director UK & IE for Equator Design.