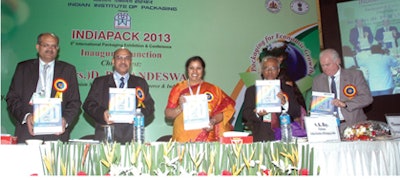 The per-capita consumption of packaged beverages and food in India is still very low compared to other regions. However, expenditure on these products has doubled in the last five years. Within the next five years it will increase by another 14 per cent annually, as the demand for processed food is rising due to growing disposable incomes, urbanization, and a young population.
Keep an eye on the Indian foodservice industry, too. Currently it's estimated to be nearly $13.79 billion. But it's growing at a healthy compound annual growth rate (CAGR) of 17 per cent, which has significant implications for the packaging sector.
Plans are currently in place, thanks to public and private funding, to establish 30 to 40 mega food parks. Corresponding infrastructure for packing, packaging transport, and refrigeration are part of these plans, so this development is expected to give food manufacturing—and, by extension, packaging—a big boost. In fact, by 2015 more than $25 billion is to be pumped into the food sector and the required infrastructure.
Packaging has an annual global turnover of about $550 billion, and India's share is about $16.5 billion per annum. According to a recent Mckinsey report, there will be a ten-fold increase in India's middle class population by 2025, which will further trigger the consumption of packaging materials. This will bring another growth spurt to packaging, says the Mckinsey report, which also notes that the country needs more packaging professionals.
According to the Packaging Industry Association of India (PIAI), packaging in India is one of the fastest growing sectors, partly because it spans almost every industry segment. Right from packaging of food and beverages, fruits and vegetables, drugs and medicines, to highly dangerous products, packaging has led to greater specialization and sophistication over a period of years.
At present, the Indian Packaging Industry is ranked 11th in the world, and industry experts are of the opinion that packaging in India is expected to grow to $16.5 billion by 2015. However, according to a report conducted by the New Delhi based Centre for Market Research & Social Development, packaging in India is highly fragmented and has 22,000 firms, including raw material manufacturers, machinery suppliers, and providers of ancillary materials and services. Moreover, 85% of these firms are Micro, Small & Medium Enterprises (MSMEs). As the industry grows and matures, there is expected to be a trend towards consolidation as supply side companies merge and acquire smaller companies to increase scale, reduce competition, and improve bargaining power with customers, the report said.
The report observed the main problems faced by MSMEs are: lack of available sources of credit, high cost of packaging materials, lack of skilled labour, irregular power supply, and an underdeveloped sense of how to market, brand, and distribute. The report goes on to say that today, flexible packaging is the fastest-growing sector of India's packaging industry. The shift from traditional rigid packaging to flexible packaging on account of its attractiveness, cost effectiveness, and strength is largely aided by increasing consumer demand for processed food.
The future of the Indian packaging industry is very good, the report notes, if investment materializes. The growth of the domestic market will be good and export potential is substantial, too, if it's properly addressed. If organized retail takes off as expected, growth opportunities are substantial, and enormous potential exists in converting wasted food into valuable product.
To maximize the potential that packaging represents, the Indian government is in consultation with a number of industry experts. For example, PIAI is formulating effective policies and guidelines aimed at helping Indian companies gain in the international market.
At Indiapack 2013, the then Indian Minister of State for Commerce and Industry, Dr D. Purandeswari, said, "The Indian packaging industry is expected to grow at 12.3% CAGR during next 4-5 years to become the fourth largest global market, with sales of $42.7 billion."
The per capita consumption of packaging in India is merely 4.3 kg per person per annum (Figure 1). By comparison, Germany is at 42 kg and Taiwan at 20 kg. According to Purandeswari, the challenges that the industry is facing today include lack of regulatory clarity in packaging, insufficient consumer awareness of sustainable packaging, and uncertainty about green packaging materials.
In the Indian packaging industry, processed food packaging represents 48% of the total, personal care packaging is 27%, pharma is 6%, and the rest is 19% (Figure 2).
According to a study by Tata Strategic Management Group, the Indian Ready-to-Eat food market is estimated to grow to $727.09 million by 2015 from the current level of $32.09 million. Rakesh Kacker, Secretary at the Indian government's Ministry of Food Processing Industries (MoFPI), has this to say: "The food packaging sector grows in tandem with food processing, which is surging at 6-7%." He notes that this is higher compared to the 4% growth currently seen in India's agriculture sector.
Thomas Schneider, President of the World Packaging Organisation (WPO), says, "In coming years the Indian packaging industry will see substantial growth. The increasing awareness regarding clean water, safe food, and pharmaceuticals will drive this growth. As the retail sector grows, the concept of track and trace devices, especially for product identification such as 2D barcodes, radio frequency identification (RFID), etc. will penetrate aggressively into Indian packaging."
The packaging market in India seems set for the next level of growth. Strong favorable demographic factors such as increasing disposable income levels and rising consumer awareness and demand for processed food are helpful. So is the rise of the Indian middle class, which is expected to go from today's 50 million to 583 million in 2025. Also important is that the world's multinational giants are taking rapid strides in India's food, beverage, health and beauty, and pharmaceuticals sectors. This will also drive growth in packaging. These factors are forcing both packaging suppliers and end users to shift from bulk packaging to retail, unit-level, small-sized packaging. In addition, exploding organized retail growth and newly relaxed investment norms in retail and other sectors augur well for the packaging market in India.
While the forecast for packaging in India is promising, there are some challenges. For example, will stakeholders in the Indian packaging sector be able to leverage the right technologies to match emerging trends? Also problematic is the lack of regulatory clarity arising from multiple legislations that define the sector; as more global players enter, this will need to be addressed. And as consumers grow increasingly aware of the benefits of sustainable packaging, this will require a shift to more green materials and innovations that require investments in R&D as well as infrastructure.
Smithers Pira expects the global packaging industry to grow to $820 billion by 2016, and the Indian packaging industry is growing at a rate of about 18 percent annually. Packaging of essential products like food, beverage, milk, vegetable, food grains, and pharma are the key driving segments because of the huge domestic consumption.
So what it all comes down to is that packaging represents enormous opportunities for India—if key investments are made, regulations ironed out, and opportunities seized.
Jagdish Kumar covers packaging and a number of other manufacturing sectors from his base in Mumbai, India. He can be reached at
nehulj@gmail.com.