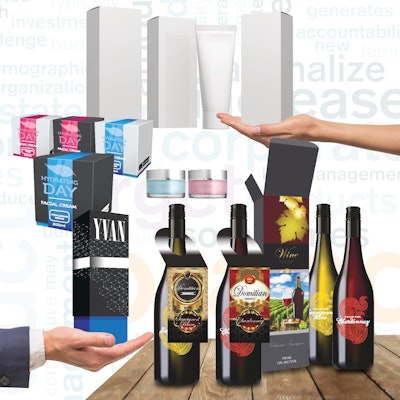 Unprinted, cut-to-spec prototypes are available for just $2 each including shipping (for five samples). Customers also have the option of ordering one or more custom-printed cartons for market testing or proof of concept.
"Blank prototypes are great for sizing. Many customers order these first because they want to be absolutely sure their product will fit properly before placing a larger order of 50 or more printed cartons," said Patrick Green, director of business development at FoldedColor Packaging. "Our designer and agency customers often create mockups from blank prototypes. They also capitalize on our printed sample options; a single printed prototype can be a powerful pitching tool."
Because they are affordable and easy to create using FoldedColor's revolutionary web-to-carton technology, printed prototypes are well-suited to a variety of applications. A high-quality printed prototype or even a custom-cut blank prototype can help product and brand managers obtain packaging feedback from colleagues, confirm viability for downstream production, and gain executive buy-in and budget approval prior to investing in a full order of folding cartons.
FoldedColor's low 50-piece order minimum also enables businesses and agencies to experiment with new carton designs, assess consumer acceptance, and tap into the benefits of versioned and seasonal packaging. Customers create, refine, perfect and approve their custom packaging with FoldedColor's advanced yet easy-to-use online CAD rendering and 3D visualization tools, and cartons are printed using a seven-color offset process that produces brilliant colors and graphics
Companies in this article