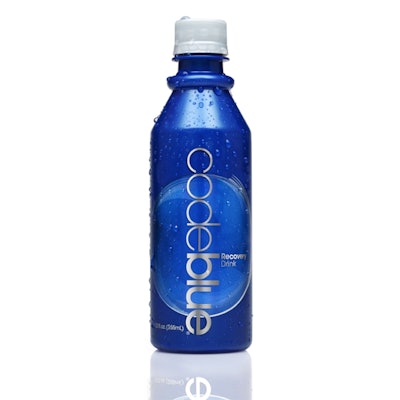 Halo Labs, New York City, has introduced its Code Blue™ brand recovery drink in visually striking, blue metallized PET bottles that simulate the appearance of aluminum bottles. The recyclable, 12-oz bottles are manufactured by MPI Packaging, Inc. (www.mpi-pkg.com) and sourced by Zuckerman Honickman Inc. (www.zh-inc.com). LiquidMetal™ color technology from Ampacet (www.ampacet.com) is applied during the preform bottle coloring and blowing process to replicate a polished, reflective metal look.
The plastic twist caps are supplied by Closure Systems Intl., formerly Alcoa Closure Systems Intl. (www.csiclosures.com). The holographic labels, rotary screen-printed in four colors using UV flexo inks and incorporating holographic foil stamping, are supplied by JR Cole Industries (www.jrcole.com). Code Blue is cold-filled by co-packer Black Bear Bottling Group, LLC (www.blackbearbottling.com).
"A large part of Code Blue's success can be attributed to its sleek, high-end bottle design," says Code Blue co-founder Michael Sachs. "Unique attributes like the holographic ink label differentiate our brand and communicate its premium lifestyle positioning."
Formulated as a recovery drink to help the body hydrate and detoxify, Code Blue is made with reduced glutathione, prickly pear juice, agave nectar, and a proprietary blend of vitamins, minerals, and electrolytes. Code Blue is currently being marketed through bars, nightclubs, the pharmacy sections of chain stores, and other retail outlets in New York City and Boston. Sachs reports that plans are underway to move the product into other markets during the next several months. The average retail price per 12-oz bottle is $2.99 to $3.49.

Companies in this article