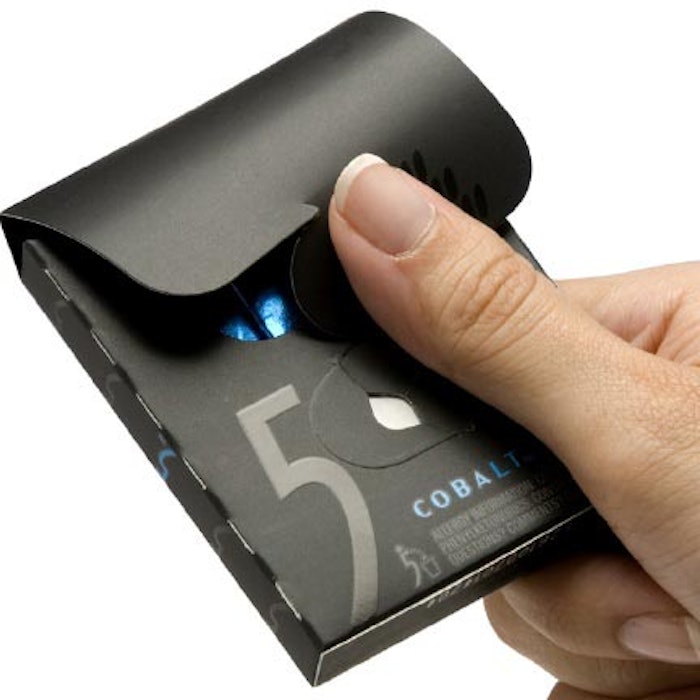 Note: This special preview for PI readers for an upcoming article presents solid package design advice from a high-level packaging manager at Wm. Wrigley Jr. Co. However, to understand the advice, you should understand the brand's entire proposition, hence this longer-than-usual article that is well-worth the read.

"Design is still one of the most underutilized tools in building brands," says Erwin Hinteregger, Director of Global Packaging Innovation at Wm. Wrigley Jr. Co.

Consider the steps that Chicago, IL-based Wrigley has taken to energize the gum aisle through design by emphasizing the "wow" factor with packaging for its 5 brand of sugar-free gum. Reflecting Hinteregger's belief in the power of design, Wrigley has:

• Infused "cool" into gum with multisensory packaging that engages young adults at every interaction with the brand.
• Adopted simple but stunning package visuals to communicate the brand essence.
• Completed an in-depth analysis of how its customers use gum packaging.

These efforts have enabled 5 to capture a 4% share of the chewing-gum market, according to Euromonitor. Meanwhile, recent category sales overall have declined 5% to 7% annually.

For decades, Wrigley has marketed stick chewing gum in paper-and-foil wraparound packages. Recently, the company expanded into pellet gum in rigid plastic containers and stick chewing gum in "envelope" packaging. The envelope approach began with Orbit, and Wrigley is extending it to 5 in a much hipper-looking package. The predominantly black-color design appeals to 18- to 24-year-olds experiencing the "club scene."

Wrigley engages that consumer by emphasizing both the package and the product. Every aspect of the packaging, down to the foil wrapping on each of the 15 individually wrapped sticks in each pack, stimulates the senses, says Toni Marnul, Director of Design Strategy, explaining the origin for the brand name 5.

The paperboard cartons communicate the "wow" by using a variety of techniques. The boldest step was creating an embossed/debossed thumb-grip area on the back panel to enable consumers to open and close the package using one hand. In tests, target consumers said one-handed package operation was desirable as an element of style.

Wrigley worked with 4sight Inc. (www.4sightinc.com) to develop the hooking mechanism in which the overflap snuggles into a die-cut on the carton's back panel. Inside each pack, 15 gum sticks are wrapped individually in colorful ribbed foil bearing stampings of the 5 brand name.

To facilitate one-handed opening, the overflap features three rows of five embossed "dots" for extra gripping traction. "Just to be able to maneuver and function, it was another little detailed feature on the container," Marnul explains.

The front panel offers abundant sensory stimulation. A ribbed, black-color background dominates the left side, and the brand name 5 is embossed and off-center to the right, providing the border for an illustration coinciding with the name of the gum variety. On packages of Rain, for example, a green-themed comet effect cascades downward to the right and onto a side panel. The green effect continues with the brand name against the black-color background, with a comet-like effect shooting across the package to create a stunning visual contrast.

Wrigley adds still another level of visual stimulation by infusing additives into the inks to create a glow-in-the-dark effect.

The four core steps to building brand equity

Structural and graphic elements of the packaging came together by focusing on four steps that Hinteregger identifies as the core to building equity in any brand. Brand owners should:

• Understand the people who use their brand.
• Track the consumer usage life cycle of their product.
• Drive holistic design throughout to build equity.
• Operationalize world-class design innovation by integrating all stakeholders before design begins.

Applying these steps to the 5 brand required significant cultural changes inside Wrigley and is a continuing process for the company. Wrigley is working to engage cross-functional teams earlier in package development and polishing efforts to integrate new packaging concepts into the company's production lines, as Wrigley's total SKUs have ballooned from 30 to hundreds. For decades, Wrigley has operated with a mind-set of producing a very narrow range of varied gum packaging in high volume at high speeds.

Engaging consumers

One important way Wrigley is evolving into holistic design is by watching and talking to consumers as they shop and use gum products. Packaging for 5 reflects this change in thinking away from creating packages mostly to optimize production speed, with secondary regard for design impact. In conversations with consumers, Wrigley learned that robustness and elegance are two fundamental components of a club-scene gum package. A stylish pack needed to offer emotional value more than traditional stick-gum packaging, which crumples over time in shirt pockets and purses and falls short of the sharing experience that trendy gum chewers desire.

"5 is all about that search for the next thrill," Hinteregger says.

Jim George is also the Editor-in-Chief of Shelf Impact!


Companies in this article