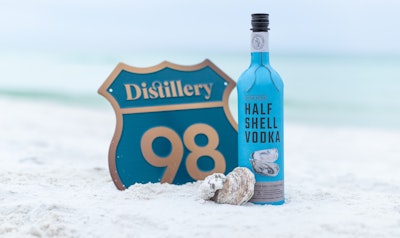 The pace of wine and spirits packaged in paper bottles is picking up, in particular those using Frugal Bottle sustainable packaging from U.K-based Frugalpac. Packaging World first reported on the new bag-in-box-style format in mid-2020, when Italian vineyard Cantina Goccia became the first brand to use the bottle in a commercial application. Since then, the package has been used for both wine and spirits in countries that include France, the U.K., and Canada. And now, with Florida Panhandle-based vodka brand Distillery 98 adopting the format in March 2023, the Frugal Bottle has made its way to the U.S. as well.
Distillery 98, in Santa Rosa Beach, is a micro-distillery founded with the mission of making craft spirits in a way that reflects and helps protect the country's ecology. Its flagship, grain-to-glass product, Half Shell Vodka, is made by hand in small batches from locally sourced, wild ingredients and family-farmed crops. According to co-founder and CEO Harrison Holditch, Distillery 98 has always used local Florida corn in its spirits. For Half Shell Vodka, it is also using water from local aquifers, coconuts from Florida farmers, and oysters sourced regionally.
---
---
Distillery 98's mission to support and protect the local environment includes not only its choice of ingredients, but also its selection of packaging. For its Half Shell Vodka, the brand considered several alternatives to the glass bottle it was using for its other spirits, including those more commonly used in the wine industry—bag-in-box and aluminum bottles, among them. However, "the lower carbon footprint of the Frugal Bottle just made sense," says Holditch. "When we found the Frugalpac bottle, we knew this was the future for Distillery 98, and hopefully for our industry as a whole."
The Frugal Bottle comprises two components: a paper bottle that begins as a die-cut and creased paperboard blank and a food-grade metallized PET pouch that resides inside. To create the bottle, the paperboard blank is molded around a hollow, mandrel shaped-mold into which the pouch has already been inserted, and is then glued at the edges with a water-based adhesive. Frugalpac produces the bottle for Distillery 98 on its custom-engineered equipment at its facility in the U.K. Bottle production and filling are also available from Canadian packaging company KinsBrae and U.S.-based contract packaging company Monterey Wine Company.

Regarding its eco-friendly features, the bottle is made from 94% recycled paperboard and is preprinted with branding information, which negates the need for an additional bottle label. The components can be separated after use, with the paperboard widely recycled, and the multilayer pouch recyclable in some regions. Its most notable sustainability benefit, however, is its lighter weight when compared with glass. The 750-mL Frugal Bottle weighs approximately 83 g, which Frugalpac says is five-times lighter than a 750-mL glass bottle and creates in six times less carbon emissions during production and shipping—even when transported long distances.
---
---
"Being that most glass is made in India and China, the paperboard bottles come with a smaller carbon footprint than standard spirits bottles," explains Holditch, "Even if the glass bottles are made in America, it's my understanding that manufacturing and shipping the paperboard bottles from the U.K. still creates less carbon footprint."
In researching the data, Holditch found that shipping one industry-standard glass bottle from a factory in India creates about 570 g CO2 and other carbon compounds, while shipping one Frugal Bottle from the U.K. creates approximately 105 g CO2, or roughly 465 g less.
Distillery 98 began the project with Frugalpac in fall 2022 and launched Half Shell Vodka in the Frugal Bottle in spring 2023. While the Bordeaux shape of the bottle is stock, graphics for the package are customized and include instructions for consumers on separating the components for recycling. Distillery 98 fills the bottles at its micro-distillery in Florida.
Since Half Shell Vodka's release, consumers have expressed "great reactions," especially in Santa Rosa Beach, Holditch shares, adding that and Distillery 98 is equally pleased with its choice of packaging for the product. "Being in our beach town it was really important to us to find something that aligned with what we were trying to give back to our home on the Florida panhandle. This packaging allows us to do our part in minimizing our impacts in the surrounding environment and keeping our carbon footprint small with our manufacturing and distribution." PW
Companies in this article