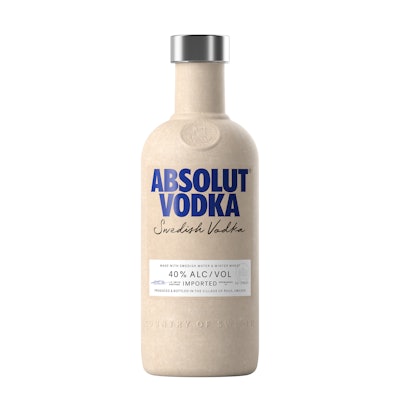 Absolut Vodka is launching a three-month pilot of a single-mold paper bottle in British supermarket chain Tesco. According to the brand, this is the first time these single-mold paper-based bottles will be sold commercially in-store by a global spirits company. The pilot follows Absolut's previous limited-release paper bottle tests with lower alcohol-by-volume, ready-to-drink cocktails at festivals in the UK and Sweden.
"This is a step closer towards our vision of a fully bio-based bottle. We are exploring packaging that has a completely different value proposition. Paper is tactile; it's beautiful; it's authentic; it's light. That was our starting point. But this is not just an idea on paper," says Elin Furelid, director of Future Packaging at Absolut. "We want consumers and partners to join our journey towards a more sustainable future. Together we can develop packaging solutions that people want and the world needs. That's why bold partnerships with like-minded organizations to test the waters are going to be evermore crucial on our net zero journey."
The paper bottle initiative is part of a wider collaboration with Paboco (the Paper Bottle Company) and its community of global brands, The Coca-Cola Company, Carlsberg, P&G, and L'Oréal, to work collectively to help the drinks and packaging industries push the boundaries of sustainable packaging. Asbsolut says this represents a significant milestone on its journey to create a 100% bio-based bottle and reduce its CO2 emissions.
Single-mold paper bottle design
There are several paper bottle formats on the market that feature two mechanically interlocked shell halves designed to surround an internal liner filled with liquid product. Buen Vato tequila, for instance, uses the Frugal Bottle concept from Frugalpac in the UK. And several years ago, Seed Phytonutrients was among brands piloting the eco.bottle format by Ecologic Brands for shampoos and conditioners in the states. Advantages of this design include being able to nest the two halves during transportation, saving space and avoiding "shipping air" prior to joining the two halves upon packaging. But from early iterations to this first-generation commercial launch, the Pabaco and Absolut project has instead relied upon a single-mold design.
"It has always single one-piece molding, that's why our product is so strong, durable, and works for liquids," says Tim Silbermann, CTO, Paboco. "There is no seam that could burst open, for example."
"Using a single-mould technology gives us the best properties for our paper bottle. We need to protect the goods within, and this is achieved by manufacturing the bottle as a single item—no glue, no hinges, no flaps to hold multiple pieces together," adds Eric Näf, Director, Packaging Development at The Absolut Company. "Additionally, the process is more efficient this way. We don't need any additional steps down the line to assemble two shells and, by forming the bottle in one piece, we can be more energy and process efficient."
The pulp used in these bottles is fully Forest Stewardship Council (FSC)-certified material. No recycled material has been used for these bottles to avoid running into food safety and material traceability concerns.
"Using fresh virgin fibers gives us the best performance across important factors, like strength, and is the baseline for our vision of a fully bio-based bottle," Silbermann says. "Only if the paper itself brings the necessary properties with it, can we develop new generations of the paper bottle and barriers."
These first-generation single-mold bottles are made from 57% paper with an integrated barrier of recyclable plastic, more on that below.
Liner barrier material advances earn 'first-generation' moniker
"The 'first-generation' moniker being applied to this launch is referring to the amount of barrier material and how that material is applied," Silbermann says. "Here, we use a thin preform that is blown into the bottle to form the barrier layer, which also brings a controlled neck finish with it."
To finish the bottle, the plastic barrier is blown inside the paper shell and is separate from the molded material. It's noteworthy that the barrier liner is more rigid than flexible—it's especially rigid in the neck area, where such rigidity is required to close and seal the bottle properly.
"The finish, including threads, is part of the inner barrier in this first-generation bottle," Näf says.
Despite its rigidity, the inside liner is thin and offers no structural support. Instead, all the structural support comes from the paper material.
"The paper is the foundation and will remain as we work towards our vision of a fully bio-based bottle," Silbermann says. "But by applying the plastic barrier in a second step into the bottle, we can separate strength properties carried by the paper bottle, from the liner's barrier properties. Since we are only using mechanical interlocking in this first generation for the barrier application, the materials can be easily separated. However, it is not like a loose bladder, but a fully shaped barrier, to not be space inefficient."
The first-generation bottle uses a polyethylene naphthalate (PEN) barrier, which is a monomaterial with strong barrier properties that can be recycled along with closely related polyethylene terephthalate (PET) in small proportions. The PEN material was chosen for its properties and resistance/ability to perform with Absolut Vodka Original. Post-consumer recycled (PCR) material could be chosen for the general application, but was not possible to be used for high alcohol-by-volume (ABV) vodka, not just lower ABV ready-to-drink (RTD) options that were used in the earlier, festival-based tests of the format.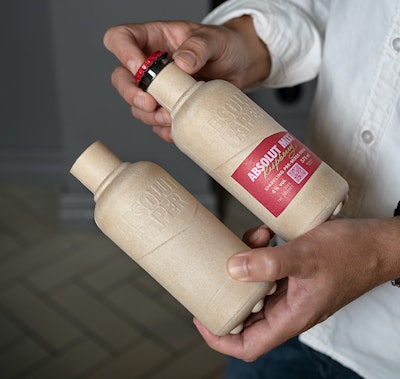 "The advancement of this version of the paper bottle is for Absolut Vodka which is 40% ABV and the challenges in holding higher alcohol rather than Mixt which was 5%," says Näf. "The 40% ABV is challenging for many materials and therefore thorough testing is required. The barrier in this first generation of the paper bottle is suitable for Absolut Original Vodka. The next generation bottle will undergo the same testing and approval processes before being released. The next version of the paper bottle will not be able to keep carbonated products, which made Absolut Original Vodka a logical choice for this test."
Decoration and capping
Decoration entails applying digitally printed labels to filled, capped bottles. Consumers are not required to remove the labels before recycling, as they're also printed on recyclable material.
"The technology does not yet support scalable printing of paper bottles. But the application of a label is not a problem at all since it's done on filled bottles," Näf says.
---
---
Also, previous iterations of Absolut's paper bottle have experimented with a paper-based cap from Blue Ocean Closures (BOC). But since the Blue Ocean Fibre Cap is still in development and is not yet a commercially available option, the first-generation paper bottles use a standard Absolut bottle cap, made from an inner plastic liner and an aluminum outer shell.
Fitting into the big picture
While standard glass bottles are also recyclable, paper bottles are eight times lighter, and according to the brand, easier to carry. Still, the end goal is for them to complement Absolut's iconic glass bottle, not replace it. Absolut believes consumers will use the paper bottles in out-of-home occasions, such as festivals, parks, or beaches. This trial in particular aims to gain insights from consumers, retailers, and supply chain partners to inform the next steps on Absolut's innovation journey towards a commercially viable, fully bio-based bottle. Absolut will test how the paper-based bottle transports and how consumers perceive it.
It also says this represents an important milestone for Absolut in becoming a carbon neutral product by 2030, a prerequisite for being able to meet this goal is in reducing the carbon footprint of its packaging. Absolut Vodka says it's on track to be a carbon-neutral product by 2030, with its distillery emitting 98% fewer emissions than the average distillery, according to Beverage Industries Environmental Roundtable (BIER) benchmarking study based on data from 2020. In November last year, it announced this initiative with Ardagh Glass Packaging to start using a partly hydrogen energy-fired glass furnace for large-scale bottle production.
---
---
"Absolut Vodka has a rich heritage of collaborations and partnerships, and the brand is working towards developing packaging solutions that consumers want and our planet needs," concludes Charl Bassil, Global VP Absolut. "Absolut remains committed to a sustainable future in which it continues to mix things up, with recyclable lighter paper-based bottles to complement Absolut's iconic glass bottles. This ground-breaking test takes Absolut a step closer to that becoming a reality."
So if this is the first generation paper bottle, what will the next generation look like? The ambition of achieving a fully bio-based bottle has Paboco and Absolute looking at different materials and how they are sourced. Bio-based plastics is one of the streams they are investigating.
"Most important is always the functionality of the packaging, to safely carry the filling good during its lifecycle. We closely monitor all activities in the market on barrier development, and are even leading some of them with our partners, to always improve and better our solution. The next generation enables us to drastically reduce barrier content with a switch to a paper-formed neck, for example," says Silbermann.
Adds Näf: "Beside striving for bio-based materials, our ambition is to utilize materials that can be recycled in existing waste streams."
Manchester, UK's recycling facilities and its high recycling rates were factors that led Absolut to choose it as the location for the pilot. There, consumers can simply recycle the packaging as paper through normal household waste streams. The 500mL single-mold paper bottles will be sold in 22 Tesco stores (RRP £16, or $18) across greater Manchester throughout the summer. PW
Companies in this article