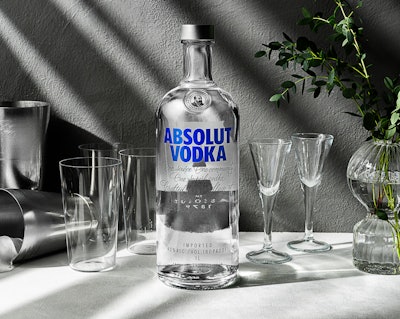 When it comes to partaking of its products, France-based Pernod Ricard—the second-largest wine and spirits brand in the world—suggests consumers share with joyfulness, but without overindulgence. They espouse convivialité without excess.
In fact, this philosophy guides all aspects of the company's business. Says Pernod Ricard—whose tagline reads "Créateurs de Convivialité," or Creators of Conviviality—"We believe that there can be no convivialité in excess and strive to be sustainable and responsible at every step, from grain to glass."
That's no small task for a company of its size and structure. Pernod Ricard, with 94 production sites in 24 countries, is a decentralized group that comprises a global flagship in France, autonomous affiliates, brand companies, and market companies throughout the world. Its portfolio includes more than 240 brands of premium wine and spirits distributed in 160 countries. Among some of its most well-known brands are Absolut Vodka, Beefeater London gin, Chivas Regal Scotch whisky, Jameson Irish Whiskey, Malibu rum, Martell cognac, and Mumm champagne.
---
| | |
| --- | --- |
| | Read this Q&A with Lynne Millar, Director of Purchasing for Malibu and Kahlua. Pernod Ricard |
---
In spring 2019, Pernod Ricard launched its 2030 Good Times from a Good Place: Sustainability & Responsibility (S&R) roadmap to address some of the biggest sustainability issues facing its business, its consumers, and the world. The overarching commitment expressed by Pernod Ricard in the roadmap is to reduce the overall intensity of its carbon footprint by 50% by 2030 and reach net-zero by 2050, in line with the Science Based Targets initiative (SBTi). Thirty-seven percent of the company's footprint can be attributed to packaging.
The S&R roadmap is broken down into four key pillars that altogether set out 30 ambitious and concrete goals and targets for 2030. Guiding its strategy around packaging is the Circular Making pillar. The goals related to this pillar deal with circular packaging design, single-use plastics, recycled content, and a transition to recyclable, compostable, and reusable packaging, among others. Since the launch of the roadmap, Pernod Ricard has made several notable sustainability improvements to some of its most popular brands to help meet the goals outlined under the Circular Making pillar and to contribute to its carbon emissions reduction commitment.
Circular Making guides packaging improvements
The concept of sustainability is not a new one for Pernod Ricard. As Chief Sustainability Officer Vanessa Wright shares, across all its brands and affiliates, Pernod Ricard has a strong legacy linked to sustainability. "Our company founder, Paul Ricard, established the Paul Ricard Oceanographic Institute more than 50 years ago to advance ocean conservation."
"Packaging is obviously hugely important to us," Wright continues. "We're a consumer-centric business; packaging is the point of contact with our consumer. We know that our consumers, among other things like transparency and provenance, want to make sure they can have an impact on reducing waste. So, that's the mindset we adopt from the very beginning, from how we make a product, right through every step of our production, and then to considering what happens to the product at end-of-life."
Under its Circular Making pillar, Pernod Ricard is working on packaging and promotional materials, both with associated commitments. In 2021, Pernod Ricard banned all promotional items made from single-use plastic, for example, festival cups, tasting cups, plastic bags, and balloons, and by 2025, it will be using 100% reusable, recyclable, or compostable promotional materials.
Pernod Ricard is also committed to reducing the environmental impacts of its packaging and the waste it generates throughout each step of the production chain to the consumer. Through its S&R roadmap, it has set the following goals: 100% of its packaging will be recyclable, compostable, or reusable by 2025; it will pilot five new circular ways of distributing wine and spirits by 2030; and it will help increase recycling rates in the top 10 largest markets it serves that have low recycling rates by 2030.
---
---
One of the actions attached to these commitments includes the adoption of eco-design principles to reduce the impact for all new product developments. In November 2019, Pernod Ricard launched new Sustainable Packaging Guidelines supported by a web-based assessment tool for all of its brands that contain detailed and exact information on what materials they can use, which ones to replace, and what they can be replaced with. Says Noémie Bauer, Sustainable Business Director for Pernod Ricard, "We want to change the mindset of our designers to make sure when they design new packaging that they use a lifecycle approach and optimize as much as possible."
Other actions related to this goal include ensuring that 100% of the cardboard it uses by 2025 is certified as sustainable; using 50% recycled glass content by 2025; and increasing the recycled content of its PET bottles to 25% by 2030.
While these targets are certainly ambitious, Pernod Ricard is starting from a very enviable position. Given that the bulk of its packaging is glass, which is infinitely recyclable, at 90%, followed by PET and then paperboard, 99% of its packaging is already recyclable. Sustainability improvements in these areas include lightweighting, increased use of recycled content, and removing plastic from its labels, caps, and secondary packaging.
But eliminating that 1% of packaging that isn't recyclable is still "quite a challenge," says Wright. These packages include the porcelain flacons used for whisky bottles in Asia, miniature and opaque PET plastic bottles, closures for PET bottles, gift boxes, and multilayer pouches, among others.
Absolut success in recycled-glass content
Glass is 100% recyclable and can be recycled endlessly without loss in quality or purity. That's according to the Glass Packaging Institute (GPI). But being recyclable doesn't always translate to high recycling rates by consumers. That's the issue Pernod Ricard continues to face when attempting to increase the percentage of recycled content in its bottles, especially in countries where recycling rates are low. Says Bauer, "When you want to add recycled content to clear glass, you have to have cullet [recycled, broken glass or waste glass] of good quality. In some markets, like the U.S., there's not enough good recycled glass. Because the bottle manufacturers don't have enough high-quality recycled cullet to put in the new glass, they use virgin materials.
"In other countries, like France and other places in Europe, we have much more recycled material. For the green glass bottles, sometimes we can reach 100% recycled content. For example, for the [green] champagne bottle, we're using up to 85% recycled content because there is quite a lot of cullet available in these markets."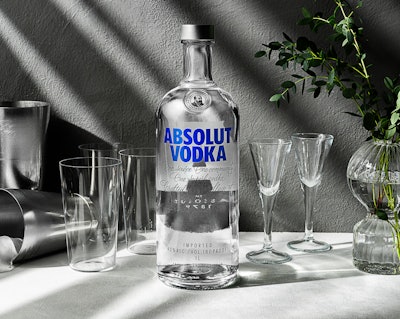 In February 2021, Pernod Ricard celebrated a milestone when The Absolut Company achieved the goal of 50% recycled content in its iconic clear glass Absolut Vodka bottle four years ahead of schedule. In Sweden, where Absolut is produced, the glass recycling rate is exceptional, at well over 90%. Explains Tina Robertsson, Director Sustainable Performance for Absolut Vodka, "The availability of good quality PCR cullet from Swedish glass recycling company SGÅ [Svensk Glasåtervinning AB] in combination with the high competence of the Ardagh [glass supplier] glassworks in Limmared [Sweden] and a step-by-step process that allowed for continuous quality enabled us to achieve the high recycled content while maintaining the clarity of the glass."
Robertsson adds that for every ton of PCR cullet used, Pernod Ricard eliminates the use of one to two tons of virgin glass. "With more than 50% of PCR cullet, we are decreasing the total use of virgin materials by a substantial number annually."
Absolut's work with Ardagh is also helping Pernod Ricard move toward its overarching goal of reducing the overall intensity of its carbon footprint by 50% by 2030 and reaching net-zero by 2050. "We have a close and long-term collaboration with Ardagh," explains Anna Schreil, VP Operations at The Absolut Company. "Through weight reductions, increased use of recycled glass, and other measures, we have reduced CO2 emissions from glass production by 10% in only five years and continue to work toward improving this even further."
Important to note, Absolut is also exploring paper bottles as an alternative to glass, an initiative it is working on with Paboco, a joint venture between paper packaging material developer BillerudKorsnäs and bottle manufacturer Alpla, and with brand partners Carlsberg, L'Oréal, Procter & Gamble, and The Coca-Cola Company.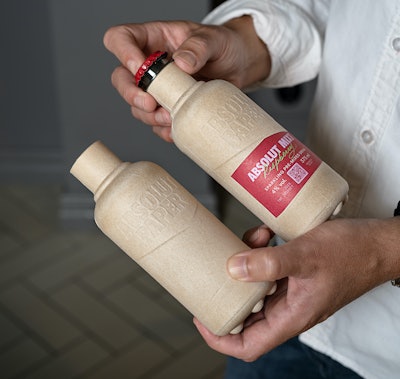 Says Louise Werner, Program Manager Future of Packaging at The Absolut Company, "The paper bottle initiative is a step-by-step journey to reduce and replace the need for polymers. In the long term, the paper bottle will become completely bio-based and biodegradable and, if successful, is something that we hope will spark a real movement for change—not just limited to the products within our own portfolio, but extending to all brands within the spirits industry."
In the initial stages of the paper bottle project, Absolut developed a first-generation prototype that consists of biodegradable Forest Stewardship Council (FSC)-certified paper with a barrier of recycled plastic. The two materials can easily be separated from each other and recycled separately, where facilities are available.
Investing in recycling is critical to advance goals
Pernod Ricard has also committed to identifying the top 10 largest markets it serves that have low glass recycling rates and help increase those rates by 2030.
"We were one of the first companies to be part of Citeo, which is a recycling company created in France in the 1990s within the Extended Producer Responsibility (EPR) framework for household packaging and paper. With it, we've reached an 86% recycling rate" says Wright. "Basically, this concept has been spread all over Europe. We have it in other countries such as Sweden and Switzerland. We have high recycling rates all over Europe, thanks to this system."
In another initiative, this one in Brazil, Pernod Ricard joined the government-supported Glass is Good Initiative, which engages the entire supply chain to increase glass recycling rates. In the U.S., it has strong relationships with groups that include the Closed Loop Fund, the Glass Recycling Coalition, and Keep America Beautiful, among others.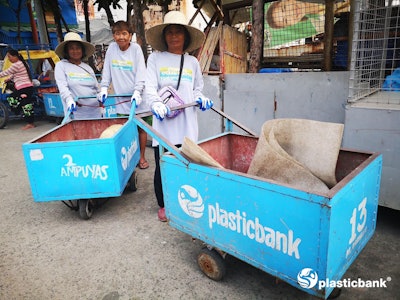 In November 2021, The Absolut Company's rum brand Malibu announced a year-long collaboration with the social enterprise Plastic Bank to help stop ocean-bound plastic in the Philippines—the world's third-largest contributor to ocean plastic—while improving the lives of the local collectors and communities where Malibu sources most of its coconuts. The initiative offers a trio of benefits: It helps stem the tide of plastic pollution to the ocean, it supports local communities, and it makes more plastic available for recycling.
The collaboration between Malibu and Plastic Bank is expected to prevent approximately 100 metric tons, or nearly 110 U.S. tons, of plastic—the equivalent of 5 million single-use plastic bottles—from entering the ocean within the next year in the Philippines.
Gin and champagne brands innovate
Other recent eco-conscious packaging changes by Pernod Ricard brands include those made by Beefeater London Dry Gin and Maison Perrier-Jouët champagne.
In the case of Beefeater, the brand replaced the glass bottle's plastic closure with a premium, embossed aluminum cap, switched from a plastic label to one made from paper, and eliminated all PET bottles, replacing them with infinitely recyclable glass.

Explains Murielle Dessenis, Global Brand Director for Beefeater, "It's our aim to reduce the amount of plastic in our packaging as much as possible. That's why we have stopped using PET bottles for any Beefeater, while using label paper made entirely of natural fibers sourced from FSC-certified forests." These changes have allowed the brand to reduce the amount of plastic it uses by 410 tons per year, which Dessenis says is equivalent to 17 million standard plastic water bottles.
Meanwhile, France-based prestige champagne brand Maison Perrier-Jouët launched a new eco-designed gift box made from 100% natural fiber sourced from FSC-certified forests in Northern Europe. Two years in the making, the box was designed and developed in-house by the brand and merges an elegant, minimalist aesthetic with a focus on sustainability.
"Faithful to the precious heritage of its founders, Maison Perrier-Jouët has rolled out an ambitious program in recent years that has enabled it to manage 100% of its vineyard through sustainable viticulture since 2016," says Axelle de Buffévent, Style Director for Maison Perrier-Jouët. She adds, "To accelerate its environmental commitment, Maison Perrier-Jouët started an experimental regenerative viticulture program last year in order to bring about a real transformation of its vineyard, the first results of which are expected by 2025. The House is working on considerably reducing its impact on nature at every stage of the wine-making process, from the grape to the glass, as the Ecobox beautifully illustrates. By the end of the year, 100% of the House's gifting offer will be eco-designed."
Used to house its classic, non-vintage champagnes, the upright, rectangular box is made from a matte, white paperboard that de Buffévent says was inspired by the chalky subsoil of the Champagne region. The entire surface of the box is embossed with a complex pattern of Japanese anemones, which is the emblem of Maison Perrier-Jouët created for the House in 1902 by Emile Gallé, one of the pioneers of the Art Nouveau movement.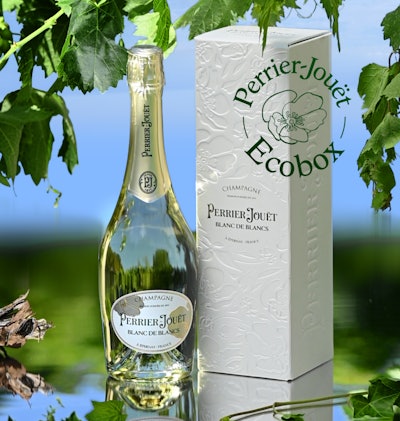 One of the goals of the redesign was to reduce the amount of ink on the box to ensure recyclability. Decorating the box with embossing, as well as reducing the weight of the box—it's 30% lighter than its predecessor—both served to limit the amount of ink required. The ink and glue used for the gift box are water-based and mineral-free.
The Ecobox is available at wine retailers, e-retailers, and e-commerce platforms where Perrier-Jouët is typically sold. Says de Buffévent, "We've received very positive consumer sentiment in regard to the sustainable Ecobox, which we see as a strong testament to the package."
Reuse is on the table
As part of the S&R initiative's Circular Making pillar, Pernod Ricard committed in 2019 to piloting five new circular ways of distributing wine and spirits by 2030. "We're looking at a number of initiatives to find different ways to distribute our products in the future," shares Bauer. "It's a bit too early to share details, I'm afraid, but it's something we're working on quite quickly to see what solutions we can find."
---
---
Currently, Pernod Ricard India is collecting from bars and restaurants 10% of all the glass it uses for packaging its products. According to Wright, this translates to 60 million bottles reused annually.
Collaboration is key to future innovation
Above are just some of the examples of successful packaging projects undertaken by Pernod Ricard to move the sustainability needle and meet its S&R strategy goals, but there are many more. And there will an even greater number in the future, as the group continues to innovate to find new ways to reduce the carbon footprint of its packaging while collaborating with industry organizations, brands, and suppliers.
"We don't have all the solutions," says Wright. "Take glass for example, although it is infinitely recyclable, its manufacturing is still very carbon intensive." Jameson Irish Whiskey, for example, recently took part in bottle supplier Encirc's pilot investigating new technology that could help reduce glass manufacturing emissions by up to 90%.
She concludes, "True to our vision of Créateurs de Convivialité, we strongly believe in working with others, within and beyond the industry, to learn from one another and strengthen what we do collectively."

Companies in this article