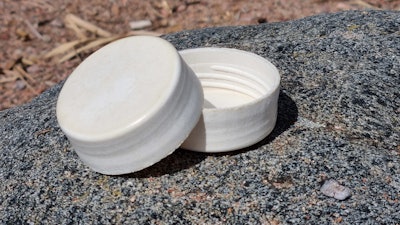 While Packaging World tends to feature commercialized, shelf-ready packaging applications, projects still percolating in the prototype stage sometimes catch our eye. We first got wind that Sweden's Blue Ocean Closures' (BOC) paper-based bottle cap was soon to get a big brand on board back in March at a Smithers' Sustainability in Packaging U.S. 2022 conference (article here).
It turns out that fellow Swedish company Absolut, a Pernod Ricard brand, was the trailblazing spirits producer testing the BOC caps. The Absolut Company says it will develop the cap for use on its current glass bottles as an addition to existing cap solutions, as well as a possibility for future packaging innovations. There are likely to be several iterations of the cap through prototyping and testing stages in 2022, with plans to share it commercially in 2023.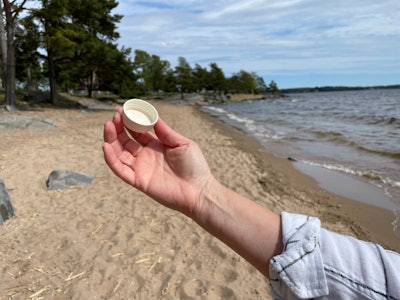 "We are still in the early stages of this project with Blue Ocean Closures, however, based on use of renewable raw materials to create a recyclable and biodegradable cap, we're excited about the impact the change will make on the products' sustainability," says Eric Naf, Director Packaging Development at The Absolut Company.
Absolut's existing cap is made from an inner plastic liner and an aluminum outer shell. The new closure format, which is intended to complement the existing closure format rather than replace it, is made from bio-based materials. The cap's design reduces the amount of plastic used in packaging by combining a body made of sustainably sourced virgin FSC fiber material with a thin top-seal barrier layer, making it recyclable as paper and ocean biodegradable, according to BOC.
---
---
"We currently use our regular barrier liner made from EPE (expanded polyethylene) that easily separates from the paper shell in the recycling process," Naf says of the prototyping process. "Over time, our ambition is to use our learnings from throughout the development process to develop an integrated, bio-based seal."
The paper-based closures are formed using press forming method that, according to Lars Sandberg COE BOC, make for high quality forming and short cycle time.
"This creates our caps quickly and efficiently," Sandberg says. "And as for many paper packages containing some plastics, such as windows or barrier layer, the polymer is separated in the standard recycled pulping process. In fact, since the cap liner is mechanically held in place it actually separates very easily to help the recycling process."
This is part of a wider ambition from The Absolut Company and Pernod Ricard to create a fully circular business, working with suppliers and partners to ensure that 100% of its packaging is reusable, recyclable or compostable by 2025.
"We know that collaboration across the whole value chain sits at the heart of long-term progress and true environmental, economic, and social impact. As part of our circular way of thinking, we are delighted to be working with BOC to continue designing out single-use materials and using packaging innovation for the benefit of the planet," Naf says. PW