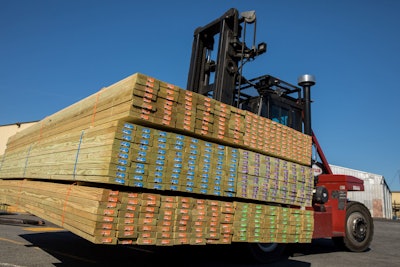 Beauty is, as they say, in the eye of the beholder. That surely is the case for product labeling and packaging, which comes in all shapes and sizes to help products get noticed and stand apart from competitors.
But what do you do when all the "packages" look the same, as is the case with pressure-treated lumber? You make the label your broad canvas and take full advantage of a very small footprint, one measuring just 7/8 in. tall x 2 in. wide.
Every piece of pressure-treated lumber, whatever the size, requires a label. Actually, the industry refers to them as "end tags" because that's where they are applied—to the end of the board.
Heading down the highway, you may have seen truckloads of pressure-treated boards at some point. Too small to read as they pass by, the tags look functional at best. Held firmly in place with a staple, they are able to withstand 70-plus MPH gusts and all sorts of weather conditions. Though the tags are unreadable, you may have noticed they have different colors from one bundle to the next. It's hard to miss that, even at 70-plus MPH with a turbulent wake of mist.
---
---
For the DIY person who knows his or her way around a home improvement store, chances are they recognize these colored lumber tags as identifying the Culpeper Wood Preservers brand of pressure-treated lumber.
"The end tag is literally our brand packaging," says Chris Brown, Director of Business Development and Marketing for Culpeper Wood Preservers. "It is a vital source of product and application information, but also a major part of our branding platform. The end tags also have to build trust and deliver peace of mind for our customers, from weekend do-it-yourselfers to seasoned contractors."
No small job to produce tiny labels
Despite their petite size, the tags require a large amount of printing expertise to produce. The front of each tag features a solid color treatment to reflect product type. Reverse-printed copy and graphics allow the white color of the tag stock to show through, making the small copy easy to read. There are also various combinations of the solid color with black ink for specifications. Some tags feature an alternate color for the product name and type. The back of each tag is printed in black.
The tags are flexographically printed by MidSouth Design using proprietary ink systems. The opaque white material is a 5-mil polypropylene with a two-sided matte finish. The construction offers strength and rigidity, so the tags will not rip or tear when stapled to the boards.
"Protecting the Culpeper brand identity and reinforcing their positioning is always top of mind," says MidSouth Design Senior Account Manager Ben Schneider. "These tags provide instant brand recognition with visual consistency in both layout and the use of color as a distinguisher of the product category.
"We use every bit of available space on the tags to effectively leverage the Culpeper graphics and detailed user information. And with a label that's just seven-eighths of an inch by two inches, we have to be extremely precise. There is no margin for error."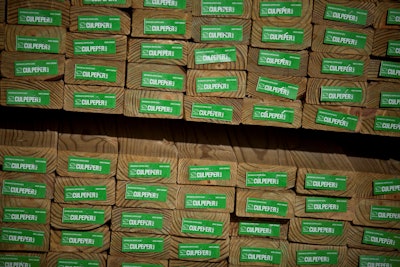 Culpeper applies the tags prior to chemical treatment of the wood. Because of this, the tags are engineered with added durability to withstand full exposure to the treatment chemicals. For example, Culpeper has a treating operation in Lancaster, Mass. They treat the wood year-round at the facility, so when the wood comes out of the treater in the winter, it freezes. Still, the tag must hold up against all the elements.
In addition, tagged lumber on a job site is subjected to all types of weather conditions. The printing cannot fade or smear, so there is a higher level of UV resistance and added protection from abrasion.
As for the tagging process, that's done in the lumber yard. Culpeper uses the MidSouth Tagger™, a pneumatic stapler engineered by the supplier that automatically feeds a single tag from a roll and simultaneously staples it in place. Compared to holding a stapler in one hand and a roll of tags in the other, the MidSouth Tagger combines both functions into a single action. Says MidSouth, this increases productivity and speed-to-market for Culpeper.
Legibility, reliability are vital
Lumber end tags do not require approval from Underwriters Laboratories, but they do offer compliance information about the chemical preservative, affiliation with a third-party inspection agency, industry standards regarding use, a warranty statement, and the treating plant location.
---
---
"While some people might look at Culpeper products as just wood boards, we take our packaging and branding efforts very seriously," says Brown. "It comes down to how we represent the Culpeper brand with customer support. And that support begins with the end tags.
"They have to confirm the customer's decision to use our products. That's why every tag must be completely readable. They also have to be front and center on the end of every board at retail and on the job site. When you consider the level of information those tags have to carry, legibility is a must and losing even one in transit is not acceptable."
Companies in this article