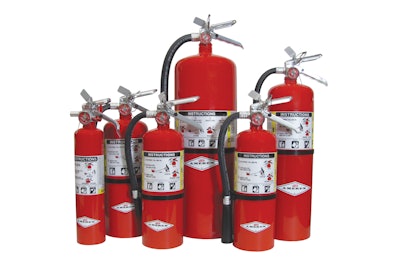 There are many things to consider when designing a product label. From presenting the brand at the point of purchase for a potential or repeat consumer, to in-hand use, every touchpoint requires different levels of information. The graphics and text, in combination with the label substrate and finishing effects, should reinforce consumer consideration and support brand positioning.
This is certainly the case for grocery products. It's also the case for industrial-type labels that have to provide long-term durability in demanding environments, as well as meet liability requirements and present the brand identity.
There's a lot of trust at stake for food, beverage, personal care, and health and beauty products—items we use daily. But, what about products we buy with the hope we never have to use, for example, fire extinguishers? They sit next to the recycling bin in the closet, hang on the wall in the garage, are tucked in the trunk of a car, stand six feet away from a welding station at a manufacturing plant, or are mounted on a cart parked at the ready on the airport flight line.
---
---
Wherever they're kept and for however long they wait, when you need a fire extinguisher, it better be ready. And that includes the label, with instructions on the type of fire the unit is designed to handle and how to operate the device.
Amerex Corp. of Trussville, Ala., is recognized worldwide as a leading manufacturer of hand, portable, and wheeled fire extinguishers, along with other fire suppression systems. Though its products are a true necessity, they don't really lend themselves to a quick "I'll try that!" opportunity like a candy bar at the checkout. It's a bit cost prohibitive. Nonetheless, how do you establish trust in a product most consumers have never used, and frankly don't want to use because it means dealing with an unpleasant situation: fire.
For Amerex, that responsibility rests firmly on the label. "We make life safety products, and that's why trust is the most important element of the Amerex brand promise," notes Guy Jones, Product Manager – Portable Fire Extinguishers for Amerex Corp. "Our market leadership position stems from the fact every Amerex fire extinguisher is UL [Underwriters Laboratories] certified. And, because UL is recognized as a regulatory expert, that perception provides essential credibility to authorities and the marketplace. This helps promote user confidence by confirming Amerex products have been tested to applicable standards."
Compliance labels require strict standards
Underwriters Laboratories is responsible for developing the standards that guide the safety, performance, and sustainability of products and services worldwide. UL leverages its regulatory expertise for product labeling through its Authorized Label Supplier Program (ALSP), which protects the integrity of the UL Certification Mark. It also deters product counterfeiting, which helps further build user confidence.
According to UL, under the ALSP, each label supplier location that prints and/or distributes the UL Certification Mark is visited four times a year by UL representatives. During these unscheduled visits, an audit of any label in production is conducted, along with a review of the label supplier's systems to ensure they meet the requirements of the program. In addition, the label supplier must submit samples to UL of all the approved constructions annually so they can be lab tested to confirm the designation still meets all the UL requirements. The visit also provides the opportunity to discuss label printing questions or concerns with UL.
ALG Labels & Graphics of Birmingham, Ala., participates in the ALSP. This allows it to print the UL Certification Mark as well as provide tested and approved material constructions for broad end-user applications, like fire extinguisher labeling for Amerex. ALG has been manufacturing product labels for Amerex for more than two decades.
"Compliance labeling directly impacts the user experience and plays a significant role in strengthening consumer bonds," says Steve Cramer, Product Manager with ALG. "Our responsibility is to help Amerex effectively market their products and build brand recognition with product labeling. The objective is to combine creative design, effective printing, and innovative material science to produce engineered products that meet the challenges of demanding end-user environments."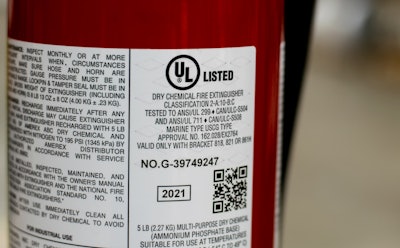 ALG's participation in the UL label program enables OEMs like Amerex to effectively take their UL-confirmed products to market with UL-approved labeling.
"Any OEM with a UL-listed product needs a UL-listed label or decal," explains ALG Account Manager Rachael Heiser. "They go together and confirm that UL testing has been performed and that it meets the applicable standards, from the product to the label.
"The UL-listed label is a key part of the Amerex brand identity. It tells consumers worldwide they're getting a product that's been designed and thoroughly tested, and is proven safe to operate. This offers a strong sense of security and directly reflects Amerex's global commitment to the fire extinguisher industry in the way they care about quality."
The primary UL label specifications are derived from UL 969 and UL 299 standards. UL 969 is the Standard for Marking and Labeling Systems for all adhesive-backed labels, decals, and nameplates. UL 299 specifically addresses portable fire extinguishers and the necessary labeling. Labels bearing information, instructions, or identification are intended to be used by manufacturers for application to their products. While every UL standard defines the UL label requirements, many UL standards only require meeting the UL 969 standard for labels and decals. Basic UL 969 tests including the following:
· Legibility: Label surface rubbed 10 times back and forth.
· Defacement: Blunt blade scraping the label.
· 10 Day Air Oven: Testing for maximum service temperature.
· Carbon Arc: 720 hrs to simulate three-year outdoor weather exposure (outdoor use only).
· Cold Box: 7 hrs of testing for minimum service temperature.
· Water Immersion: 48 hrs of testing for suitability to high-humidity areas.
· Common Agents: (If applicable) 48 hrs of exposure to oil, gas, detergents, kerosene, etc.
· Adhesion: After each of the above tests to verify peel values.
Product labels use many processes, materials
Labels for Amerex are printed using a combination of processes on different material constructions. The labels carry one to six colors, depending on the design and the substrate. Various grades of facestock are used with a range of laminate options, the combinations of which depend on where the fire extinguishers are deployed. After printing, the labels go through finishing, where the variable barcodes are 100% inspected by way of a video defect system to ensure a passing ISO grade, as well as confirm there are no duplicate numbers.
"Given the wide usage timeline, we understand the critical role trust plays in the consumer's mind," Jones says. "This is why we take ongoing measures to ensure product reliability and authentication."
Over the years, Amerex has executed various brand protection measures with its labels to deter counterfeiting and secure its goodwill. Labels have included ultraviolet and infrared taggant-based inks with visual and audible authentication properties. Today, the labeling on all its products is designed with special tamper-evident features that render the labels physically non-transferable.
"UL takes counterfeiting very seriously," says Jones. "Knowing that only authorized organizations can print and apply UL labels helps validate Amerex products immediately, giving the consumer peace of mind. Through the anticounterfeiting features of the UL label, our customers can easily identify authentic products. It's vital that consumers are able to count on authentic Amerex products to meet their fire protection needs.
---
---
"ALG has been instrumental in product development and product intelligence. We have an extremely durable, high-quality nameplate thanks to their product insights, particularly in offshore environments. The 2D code on the Amerex nameplate is an industry-leading development that helps our distributors work more effectively and efficiently."
Out of sight is out of mind, so it's not unusual consumers don't usually think about how the environment could affect a fire extinguisher—from ongoing freeze/thaw cycles to moisture, heat, and UV exposure, or harsh chemicals or unknown substances that might come in contact with the label. While consumers most likely don't, UL does think about all the potential applications and has set the standards to ensure everything is fully intact whenever and wherever a consumer calls on the product.
"Regardless of how long the wait, when you need a fire extinguisher, it better be ready," says Jones. "And that includes the label, with instructions for the type of fire the unit is designed to handle and how to operate the device. For Amerex, it's about ensuring our customers can fully trust every one of our products. That's the Amerex life-safety brand promise, delivering 'high-quality safety products built to perform and protect.'"
---
PACK EXPO Las Vegas and Healthcare Packaging EXPO (Sept. 27-29, Las Vegas Convention Center) will reunite the packaging and processing community. With over 1400 exhibitors, no other event in 2021 will bring together a more comprehensive gathering of suppliers offering new products, technologies, and solutions. Attendee registration is now open.
Companies in this article