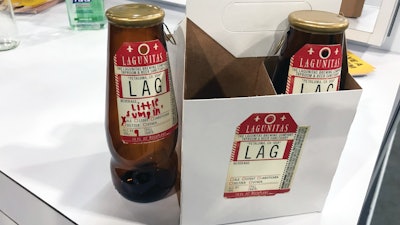 O-I Glass, Inc. announced the release of the Drinktainer™, which it says is an innovative, recyclable drinking vessel engineered for bars, restaurants, and taprooms to differentiate to-go service with a container that captures the on-premise experience allowing bars & restaurants to fill a single-serve container with draft, or fresh cocktails, that would typically be limited to on-premise consumption.
The company says its Drinktainer blends the sensory experience of a glass with the convenience of drinking straight from the glass bottle, with a wider opening to allow a deeper flavor, freshness, and aroma, replicating the on-premise experience.
O-I Glass says the new beverage packaging format is already experiencing success among cocktail and draft pilot programs and is now available commercially to bars, restaurants, and breweries actively seeking a packaging option to offer draft experience while maintaining flexibility and portability to elevate their to-go beverage options.
Lagunitas and Blue Moon were two of the first national breweries to begin experimenting with the Drinktainer pack format. Packaging World editors handled examples of both at the Craft Brewing Conference in Denver last September.
---
---
"Our Flight Packs offer beer fans a unique way to bring the taproom tasting experience home," says Mark Puente, Director of Retail Operations for Lagunitas. "So instead of just bringing one or two beers to go, the Flight Packs allow our consumers to explore our wide range of IPAs that are typically only ever available in our TapRoom. The at-home flight is enhanced by the wide-mouth Drinktainer format, which resembles the aromatic and tasting experience of our 10-ounce mason jar."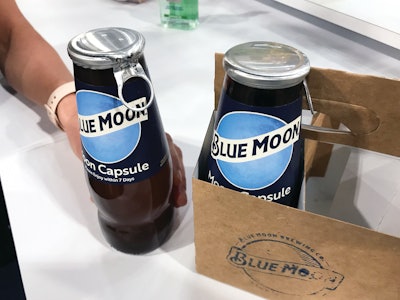 "Drinktainer creates a new level of function for the drink-to-go category designed for fresh cocktails, or beer straight from the draft, in a sealable container," adds Sarah Brennan, Market Director for O-I. "The Drinktainer creates a single-serve vessel that removes the barriers of traditional containers to deliver the ultimate consumption experience, unlocking the beverage's aromatic potential straight from the packaging—no extra glass needed."
For brewers, restaurants, and bars, the Drinktainer introduces a new size for to-go beer in an easily fillable and sealable container that offers single-serve variety and flexibility that according to the company, cannot be matched by other to-go packaging options, such as crowlers that limit enjoyment of flavor and aroma. And the recyclable glass packaging eliminates waste scenarios that have been associated with the proliferation of plastic to-go containers. O-I offers a taproom-ready, manually operated packaging device for applying the rip-cap closure.
"Glass is infinitely recyclable, and the innovative design of the Drinktainer™ enables it to be recycled locally along with other glass bottles and jars," Brennan says. "Glass is pure and inert, meaning the Drinktainer maintains the natural flavor of your favorite beverage while offering flexibility of choice that cannot be addressed in larger container forms."
For consumers, the Drinktainer introduces options for selecting multiple drafts in single-serve, RTD containers. They only need to pull the rip-cap to open, and the wide-mouth Drinktainer gives a full-sensory, aromatic beverage experience.
O-I tapped the Drinktainer as the flagship of its Catalyst Collection. This new collection is engineered to capture the character of brands and embody them in a physical shape. O-I says bottles in the Catalyst collection will spark an emotional connection with consumers that creates lasting brand loyalty.

Companies in this article