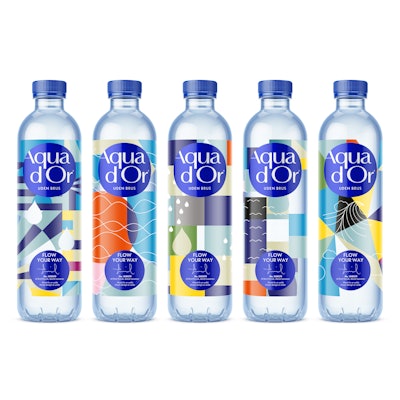 Folienprint Rako, an All4Labels Group company, produced the water label campaign in two weeks using its HP Indigo 20000 Digital Press from HP and HP's SmartStream Mosaic and PrintOSprint software.The labels for Aqua d'Or's"Flow Your Way" campaign feature unique designs by Danish artist Emil Kozak expressing nature and individuality. The campaign is a collectables promotion for the Swedish and Danish market created to engage with millennials.
"Using HP digital printing, the labels tell the story of Aqua d'Or natural mineral water flowing for 300 years through the untouched Danish nature until reaching purity, using design elements of drops, waves, and skies," says Line Jorgensen, Brand Manager at Aqua D´Or. "The collaboration with HP digital printing and Danish artist Emil Kozak and HP made it possible to create these 3.2 million distinctive and creative labels."
Eleven design patterns based on Aqua d'Or's story elements were converted automatically into unique creations by HP Mosaic print software. Aqua d'Or launched the special edition on August 30 at an event in the center of Copenhagen, where the water bottles were exhibited in an art gallery. In a live printing experience for the 200 guests, posters of Emil Kozak's designs were also printed by Damgaard-Jensen in Denmark on HP Latex printers on site and signed by the artist.
"The Aqua d'Or campaign is a perfect example of how brands are using HP digital technology to become distinctive, while being creative and playful and generating excitement and buzz for the product among new customer groups, in this case millennials," says Jose Gorbea, HP EMEA Brand Owner – Digital Print Solutions for Brands. "Flow Your Way showcases how HP´s technology can support the creation of multi-media campaigns, from 3.2 million unique labels to personalized in-store and outdoor advertisement, including transforming event spaces with HP Latex technology."
The labels were printed on the 30-inch wide HP Indigo 20000 Digital Press, delivering high-volume, wide-format label printing on a wide range of materials. HP SmartStream Mosaic is an algorithm that automatically generates a high number of unique graphic patterns from seed designs.
To create the 3.2 million ready-to-print PDFs, Folienprint used HP PrintOS composer, a cloud-based application using central high-performance servers, for super-fast creation of print files from variable data fed into VDP (Variable Data Printing) design templates.
"Thanks to the cloud-enabled PrintOS Composer application we were able to quickly turn around a very high volume of one-of-a-kind print files on our HP Indigo 20000 and deliver a timely product for a key brand customer within two weeks," said Michel Koch, Head of Prepress Digital at All4Labels.
PrintOS Composer creates compact PDF files for optimized fast processing on HP DFEs (Digital Front End), making it up to 50 times faster compared to standard non-cloud tools. The ability to use PrintOS Composer on demand and with no hardware installation simplified and expedited Folienprint production.
Companies in this article