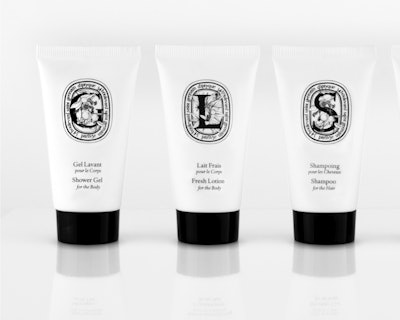 An upscale amenity collection from Parisian perfumer diptyque, designed to take guests on a sensorial journey from the Mediterranean to the gates of the East, is now being offered in a new tube packaging format.
diptyque has always pursued a passion for travel and because of their partnership with luxury amenities supplier Gilchrist & Soames, the brand says it has been able to deliver an invitation for guests to "embark on a journey of the senses." Their new packaging is being offered to existing and potential luxury hotel partners in the form of sleek, modern 40-mL (1.35-oz) tubes.
Until now, diptyque had only offered its shampoo, conditioner, shower gel, and body lotion in a bottle. The decision to introduce tubes was driven by the desire to offer properties additional options to meet their specific needs and functionality. "More than just a luxurious product, it's also a well-designed, eco-friendly alternative to a bottle," says diptyque.
The tube has a white background and a black twist lid, and is imprinted with the signature diptyque graphics used to identify different scents and product types.