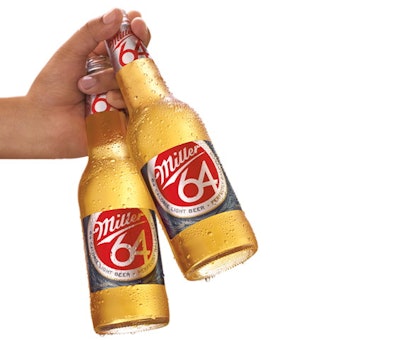 With its Miller64 beer brand, MillerCoors says it will become the first U.S. beer to feature new, more detailed voluntary nutrition labeling as instituted last year by the federal government.
The U.S. Department of Treasury's Alcohol and Tobacco Tax and Trade Bureau issued new guidelines about the nutritiona information disclosed on labels for all brewers, vintners, and hard liquor distillers. For those who wish to do so, alcohol brands now can provide more nutrition information—including serving size, servings per container, alcohol content by volume, calories, protein and fat per serving—on their packaging.
"With just 64 calories and 2.4 grams of carbs per 12-ounce serving, Miller64 is the ideal beer choice for people living a balanced lifestyle," says Gannon Jones, Vice President of Brand Marketing at MillerCoors. "Adding the new nutrition label will provide the kind of detail that will give consumers one more reason to reach for a Miller64 when they want to enjoy a beer that fits their way of life."
The nutrition labels are not mandatory, but the guidelines ensure consistency and clarity across all types of alcohol, for the brands that choose to participate. Light beers are required to include only calories, carbs, protein, and fat, while other beer and alcohol brands are not required to include any nutrition information.
Jones said MillerCoors hopes to eventually expand its adoption of the voluntary nutrition labeling, but will start with Miller64 to learn more about consumer reaction before making additional decisions.
"We're proud to be the first U.S. alcohol company to incorporate the new voluntary labeling guidelines and hope Miller64 drinkers find it beneficial," he says.
Companies in this article