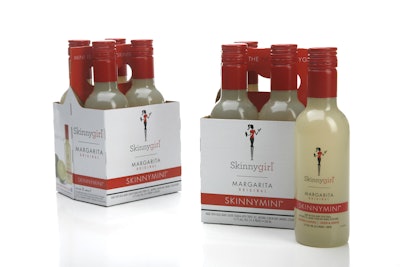 Premium spirits company Beam Inc. has launched Skinnyminis, a four-pack offering of the Skinnygirl Margarita ready-to-serve cocktail in sleek-looking, 200-mL PET barrier bottles from Amcor Rigid Plastics. The lightweight, break-resistant PET container delivers convenience and portability, enabling this popular spirits brand for women to be enjoyed at backyard barbecues, picnics, and other outdoor venues, such as concerts.
Skinnygirl Margarita, previously only available in 750-mL glass bottles, is one of the most popular products in the fast-growing Skinnygirl Cocktails line of products that include ready-to-serve low-calorie vodka and wine options. Beam moved to the single-serve size for the premixed cocktail based on feedback from its customers, according to Megan Frank, brand director, Skinnygirl Cocktails, at Beam. "For us, the size extension made sense due to PET's value and because consumers asked for the product," she says. "In the single-serve size, unbreakable and portable PET bottles provide an entrée into new venues that do not allow glass because of the potential for breakage, opening up new sales opportunities."
Frank noted that Skinnyminis have been sold all season at Yankee Stadium in New York City and at other similar-type venues, including sporting events and concerts. "We wouldn't be able to get into those venues with glass," Frank adds.
The custom container also represents one of the first 200-mL barrier PET bottles for the spirits industry, notes Amcor. A PET barrier resin with an oxygen scavenger offers protection from oxygen ingress and provides extended shelf life, resulting in bottle inventory benefits. A UV additive is also used for the bottle to protect the product from UV light and preserve the product color.
According to Myles Graybill, project engineer for Amcor, the 200-mL PET bottles preserve the brand image and premium look of the 750-mL glass containers. The slender, longneck container is also designed to withstand high top-load impact. A roll-on, pilfer-proof (ROPP) premium aluminum screw-top closure that requires a top-load strength of up to 200 lb of force is supplied by Amcor Flexible Capsules.
Beam also says it realizes key sustainability benefits with single-serve PET bottles. The single-serve containers are one-sixth the weight of glass bottles, unbreakable, less wasteful, and recyclable, according to Amcor. The plastic bottles also result in significantly reduced transportation costs and other supply chain efficiencies.
Companies in this article