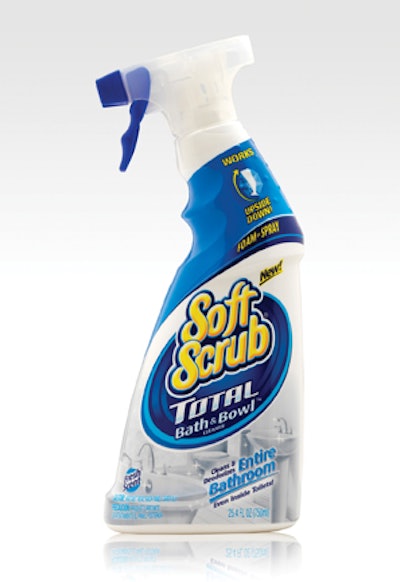 If both the product and package meet consumer expectations for meaning, value, and lifestyle benefits, a fourth way of creating a successful brand extension is a real bonus. By identifying unmet needs in a category and doing holistic planning, creative teams can change consumer behavior with a well-designed package.
Dial Corp., a Henkel Consumer Goods Inc. company, is doing that in household cleaners. The company is bridging the bathroom-cleaner and toilet-care categories with Soft Scrub Total Bath & Bowl Spray. Though other all-in-one deodorizing cleaners for the bathroom are on the market, what elevates Total Bath & Bowl Spray is a package structure that simplifies product use and creates additional value.
"Structural design is the key element," says Wendy Warus, vice president home care, Henkel International. Consumers quickly understand that this is a breakthrough cleaner because the bottle design combines the elements she loves about each of her current cleaner forms: the long neck of a trigger bottle, the trigger itself, and the angled neck of a toilet bowl cleaner."
Veteran structural designer Dean Lindsay believes the Soft Scrub package is significant because spray bottles historically have been a useful but unattractive household cleaning tool. Total Bath & Bowl Spray changes that with a package that marries a custom-designed high-density polyethylene bottle from Silgan with a stock trigger sprayer from AFA Dispensing Group.
The package enhances convenience in household cleaners for two reasons, says Lindsay, spokesman for Tirso Olivares Design, which designed the package. The design features an angled neck and spray trigger that enable consumers to spray both right side up and upside down. That eliminates the problem of liquid failing to expel from the wand as the sprayer is squeezed when the bottle is turned upside down.
Just as important, the package structure allows for a new behavior during product use: directing and squeezing the spray nozzle in all directions. The bottle's ergonomic design positions the hand lower on the neck area during spraying, thereby reducing user fatigue, especially when turning the hand and squeezing the spray nozzle to expel cleaner.
Companies in this article