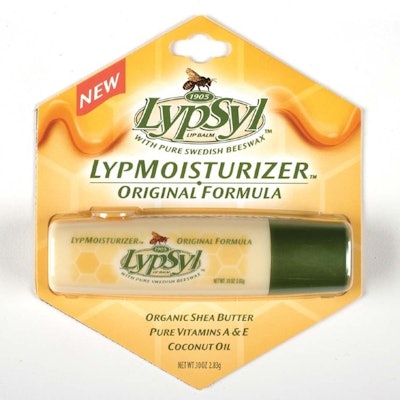 Encouraging consumers to bathe their sore lips in a beeswax-based balm that glides on like honey, new packaging for Lornamead, Inc.'s LypSyl line of five lip care products is as enticing as it is functional. LypSyl, a 100-year-old brand from Sweden, was launched in the U.S. by Stamford, CT-based Lornamead last August.

For the line's U.S. debut, the company says it tweaked the product formulations and created "dynamic new packaging," including a new stick pack with a "handy, bee-grip slider," said by consumers to be "cool" and "fun."

"The lip-balm formulation and packaging were contemporized for launch in the U.S. to make for a premium and memorable product experience," says Lornamead group brand director, Skincare, Karen Murabito. "The primary pack was designed to optimize product application and make it enjoyable. The secondary pack was developed to generate appetite appeal in the very medicinal lip-balm aisle."
Bee-shaped slider

For LypMoisturizer Original Formula and HoneyBerry varieties, Lornamead, in conjunction with HCT Packaging, developed an innovative stick package (pictured) with a slider that allows for one-handed product extension. The flattened, oval, 0.10-oz injection-molded package comprises five components: an acrylonitrile butadiene styrene base, a polypropylene piston, a 3D bee-shaped ABS slide button, a seven-color PP heat-transfer sleeve label, and a pearlescent green ABS cap with an embossed honeybee logo. All are supplied by HCT.

Packaging for the remaining three LypSyl varieties includes a 0.28-oz jar, a 0.6-oz stick, and a 0.30-oz flexible tube.

Continuing the bee theme through to the secondary packaging, LypSyl employs a dual-carded blister-pack with cards cleverly die-cut in a honeycomb shape, for all five formulations. DMI developed the blister, which includes extra space for the bee slider on the stick packages. Perforations on the back card allow for easy access to the product, which is contract-packed at DMI's Wharton, NJ, facility.

Blister-card graphics, designed by Muts&Joy and printed by CardPak, include an illustration of a golden swath of honey oozing down the top of the card, behind which is a yellow, honeycomb-pattern background. A bee logo tops a LypSyl cartouche near the top of the card. Simple, earth-toned illustrations on the back card depict each variety's four key ingredients-among them are mint, coconut oil, organic shea butter, chamomile, and others.
The products sell for $2.99 nationwide.

Companies in this article