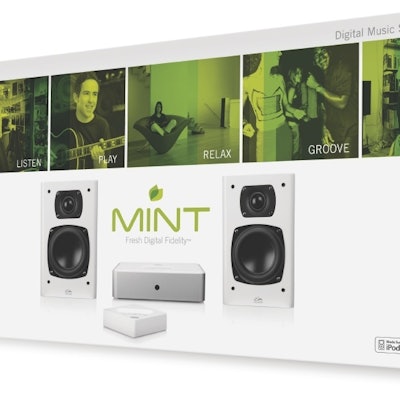 Exhibiting an open, industrial feel, a fresh palette of mint-green hues, and custom lifestyle photography, packaging for Mondo System Inc.'s Mondo MINT digital music station was designed to convey a flexible, premium, high-fidelity product at an affordable price point.

"Mondo prides itself on developing products that easily, comfortably, and affordably integrate into consumers' daily lives—a credo the company terms 'Digital Democracy,'" says Mondo USA vice president of sales and marketing Ron Gillies.

Mondo, headquartered in Seoul, Korea, with U.S. offices in Santa Ana, CA, was created in 2005 to extend the usage of digital music systems such as the iPod, MP3, and satellite radio. The MINT stereo system, with the tagline "Fresh Digital Fidelity," connects to a range of these digital music sources and includes several audio components, including two bookshelf speakers, a mini remote control, and a wireless dock, among others, for $349.

The challenge in launching the unknown product into the highly competitive U.S. consumer electronics market, notes Gillies, was to create packaging that would "resonate well in retail stores and on consumer e-commerce engines." To craft the MINT concept and accompanying graphics and packaging, Mondo teamed up with strategic branding firm Miriello Grafico (www.miriellografico.com).

Resulting packaging consists of a corrugated box with a plastic handle that is printed overseas with matte finish and an aqueous coating. Inside, form-fitting, protective polystyrene inserts hold the main components, while a custom-designed, thermoformed inner tray accommodates five, labeled iPod adapters. A separate storage box holds cables, wires, and a multi-language manual.
Graphics draw on an unusual range of consumers

In designing the package graphics, Miriello Grafico account executive Tracy Daniello recalls that "consumer insight received from a grassroots marketing study provided key messaging points and visual cues targeting an unusually wide range of music lovers aged 18 to 54."

She explains that the packaging design plays off the product's modern attributes by utilizing open and generous spatial relationships between the copy and the imagery, avoiding clutter. Information is easy to grasp, and a series of icons display product connectivity. Combined with stock imagery, custom lifestyle photography was shot to breathe life and believability into the product's usage and functionality.

Mondo's Gillies tells Packaging World that "reception of the packaging design has been positive from current and potential distributors, resulting in various key retail partnerships to-date." These include online retailers such as Amazon.com and Buy.com; in-store retailers, including RCS Experience NYC, DataVision NYC, Sharper Image, and select Best Buy test stores; and on-air retailer QVC.



Companies in this article