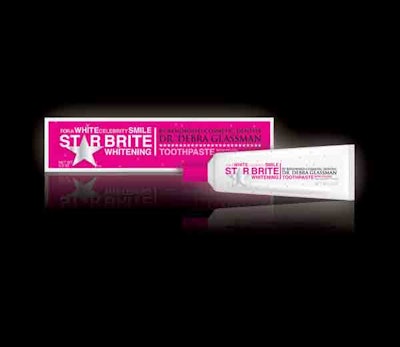 Tooth whiteners is a $294 million industry unto itself in the United States, according to Euromonitor International. Recognizing the need for a novel approach to introduce yet another product in the whitening segment, Dr. Debra Glassman, a Manhattan-based cosmetic dentist, focused on brand name, package color, and the right distribution channel.

Glassman developed an advanced-whitening toothpaste and worked with MoxieTM (www.moxietm.com) to develop a brand identity that emphasizes the paste's cosmetic benefits with a bit of "star power" and channel-specific packaging.
The packaging, developed by contract packager Sheffield Pharmaceuticals (www.sheffield-pharmaceuticals.com), focuses on the brand's cosmetic appeal to avoid looking medicinal or clinical. Starbrite's paperboard folding cartons—coated, two-sided solid bleached sulfate low-density board—are printed bright pink and feature the Starbrite brand mark with a large silver star in place of the letter "a"—the symbol for the brand, says Tammy Vaserstein, MoxieTM creative director. Smaller silver stars function as design elements for bullet points and borders around the package.
Boutwell, Owens & Co. (www.boutwellowens.com) printed the outside of the carton using process colors with a Pantone Matching System (www.pantone.com) silver added with an aqueous coating to deliver graphic intensity. The inside of the carton is printed in a leopard pattern using process colors with aqueous coating.
This colorful, star-power package complements the signature pink-branded stores of Victoria's Secret, the retailer that sells Starbrite exclusively. The toothpaste also will be offered for sale in at the Venetian and Wynn Hotels in Las Vegas. Starbrite carries a suggested retail price of $6.99 for a 4.2-oz tube.
Companies in this article