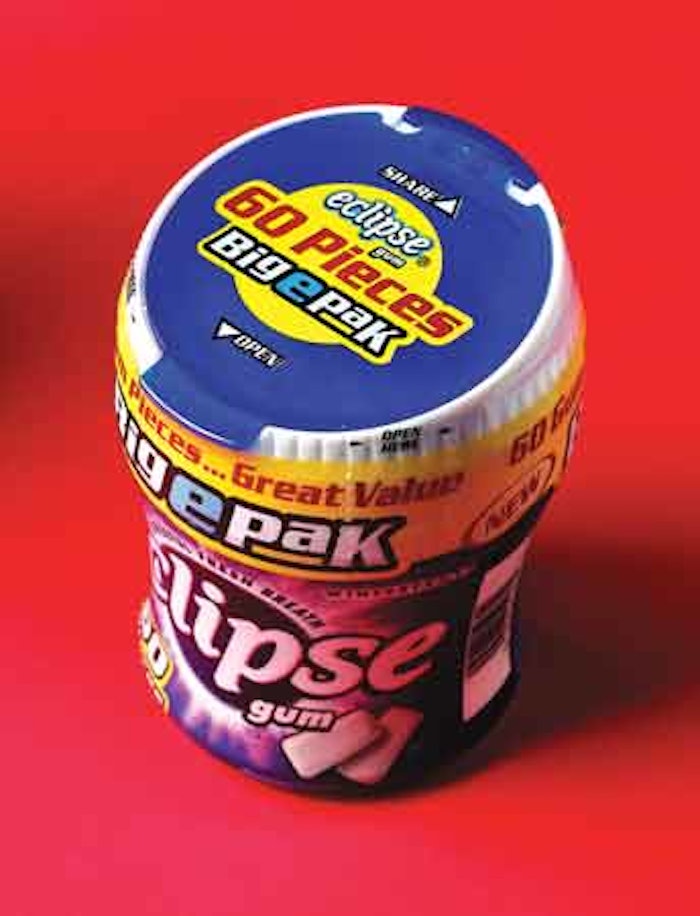 A cross-functional team studied where and how consumers chew and store gum, and concluded that gum is often a "stationary" storage item, especially in the car. Wrigley built on that and other findings, and has introduced the "Bigepak" under its Eclipse brand.
The new pack adds another dimension to the brand, which previously was identified with a 12-count foil pack in a paperboard sleeve. "Bigepak is not intended to be portable, such as for carrying around in a purse," says Elaine Madansky, Wrigley's senior manager, global consumer & market intelligence. Madansky adds that the 12-count pack will continue as the brand's on-the-go pack.
Bigepak is a stock-up package containing 60 gum pellets in a 2¼" diameter HDPE recloseable container, from Silgan Container (www.silgan.com), that's designed to fit in cup-holders. At 3½" high, the container "is tall enough to get it all in the cup-holder, yet it is shallow enough for the consumer to reach into the container to grab that last piece of gum," Madansky adds.
To facilitate easier access inside the container, the polypropylene lid, from Rexam (www.rexam.com), is angled slightly toward the user. The lid includes two snap closures to make the package accessible from two sides and promote sharing, thereby increasing consumption.
Shelf pop is provided on the container through a PVC shrink label, from Sleeveco (www.sleeveco.com), that's rotogravure-printed in five to eight colors. The polypropylene label on the lid is from Deco Labels (www.decolabels.com).